Dallas City Council Votes To End 5-Cent Plastic Bag Fee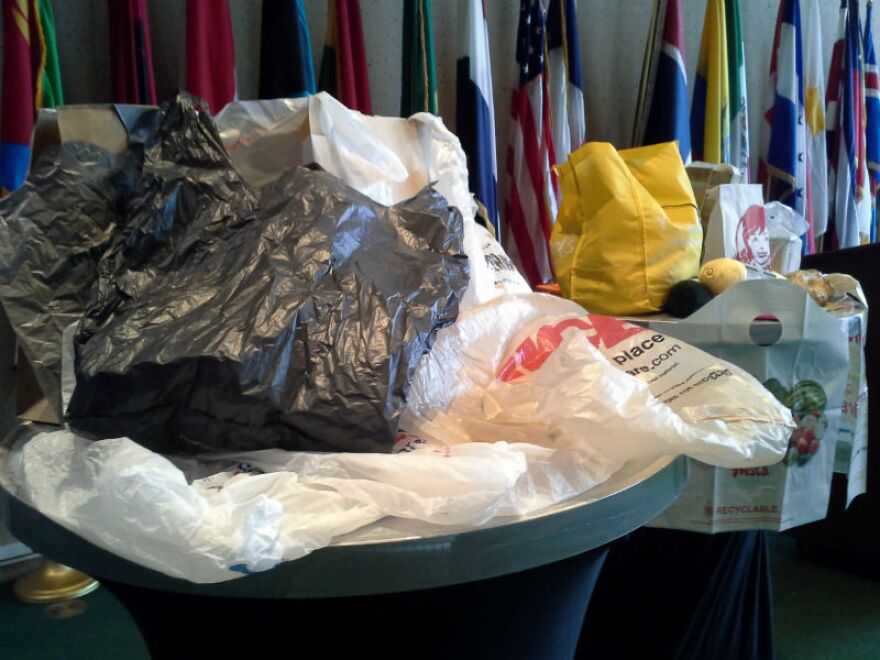 The controversial plastic bag ordinance in Dallas has been trashed.
On Wednesday, the Dallas City Council repealed the ordinance. The council also voted down an attempt at an all-out plastic bag ban.
Starting Monday, shoppers will no longer have to pay the 5-cents-per-bag fee.
Plastic shopping bags may be flimsy, but they've generated substantial conflict at City Hall.
Since Jan. 1, retailers had been required to charge customers 5 cents for a single-use bag. But last month, a group of bag manufacturers sued the city over the 5-cent fee, which the council approved last year. City officials say the fee probably wouldn't survive a court battle.
On Wednesday, the measure to ban plastic bags failed 9-6. Repealing the 5-cent bag fee ordinance passed 10-4.
Dallas City Council member Dwaine Caraway was not pleased with either vote. He championed the effort to get rid of disposable bags. He cited other cities that have bag fees and says that dropping the bag fee is "taking Dallas backwards." Austin, for example, has a bag ban.
'Culture of clean'
Caraway used Mayor Mike Rawlings' own words to make his point.
"Mayor, you have always talked about the 'culture of clean,'" Caraway said. "And we cannot advance this city if it's dirty. We cannot ask people to come and bring their companies here if it is dirty."
Caraway's comments, complete with plastic bags as props, were impassioned and almost pleading.
"We just can't have a dirty, trashy city and call ourselves a world-class city. We are a world-class city!" Caraway said. "We will eventually be known as the world-class city of plastic bags if we fail to make the decision today."
The 5-cent bag fee has raised about $500,000. Rawlings, who said the bag fee has been "difficult at times," wasn't happy that several city workers have had to take time away from their regular work to help enforce the ordinance.
"The reason we're here today is because we're being sued," Rawlings said. "And the City Council felt that it was probably not right to fight this ordinance in court. There were folks on either side saying we don't want to do that."
A personal decision
Several council members applauded Caraway's presentation but said they couldn't support a full ban. Rick Callahan was one of them.
"To make the broad brush thing of banning something really is anti-business," he said. "Rather than making people personally responsible, we play the nanny-state card and say 'let's put the responsibility back on business.'"
Council member Jennifer Staubach Gates, who also voted against the ban, feels it's too big a move by City Hall and says the choice should remain with citizens.
"If the residents of Dallas want a clean Dallas, they can make the choice not to pick up plastic bags at retailers that use them," she said. "They cannot shop at the places that distribute these kind of bags."
Reaction from council members
Council member Jennifer Staubach Gates tweeted:
No winners today just council's desire to make the right decision for Dallas. Now residents do your part and be responsible consumers.

— Jennifer S. Gates (@cmjsgates) June 3, 2015
If behavior has changed regarding plastic bag use for the good repealing the ordinance doesn't have to change that.

— Jennifer S. Gates (@cmjsgates) June 3, 2015
A man showed up wearing a bunch of plastic bags
'Kinda green, light green or mint green'
Here's what KERA reported in March 2014, when the council voted to approve the bag fee:
It took more than a year, but Dallas City Council member Dwaine Caraway told KERA before the meeting he was confident he had the votes to pass the partial ban. "Either we're going to be green city, as the world is moving toward green, or we're going to be kinda green, light green or mint green," Caraway told KERA. "Either we're going to be serious about our commitment or we're going to half do the job." Kroger spokesman Gary Huddleston said banning plastic bags creates other problems. "The theft has gone up because there are some customers, dishonest customers, that get a reusable bag, fill them up … and don't pay for it," he said.
'I think it's ridiculous'
In January, KERA reported on reaction to the bag fee:
Outside a Kroger near downtown, Tara O'Connor says she doesn't mind the new fee. "I think it's totally reasonable – five cents," she says. "We need to stop doing this -- me included." She was loading about a dozen plastic bags of groceries into her car. Shopper Christy Wilson takes the other side. "I think it's ridiculous," Wilson says. "I actually live in Fort Worth. And I shop here at lunch. It'll prevent me from shopping in Dallas."