New Year Brings New Bag Fee For Dallas Stores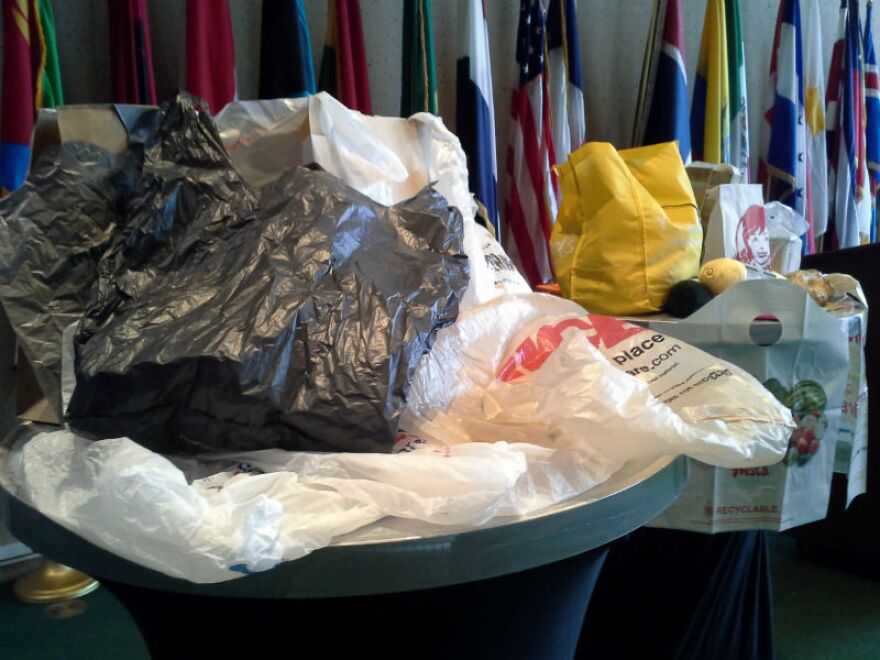 The new Dallas carry-out bag ordinance went into effect Thursday.
Customers at Dallas stores will be charged a nickel for every single-use plastic or paper bag they take home. The goal is to be "greener" and cut down on plastic-bag litter.
Dallas City Council member Dwaine Caraway was the chief cheerleader for the bag fee. The City Council voted in March to approve the fee.
"This ordinance was approved to protect our environment by reducing the negative impact of single-use carryout bags," Caraway said.
Caraway says the city spends more than $4 million a year to pick up litter, including plastic bags blown along city streets like urban tumbleweeds.
The fee also applies to paper bags unless they are a heavier weight and have handles, such as the ones at Whole Foods.
That sturdy kind of paper bag is the way Steve Levine chose to go – forsaking plastic altogether at his three Midway Auto Supply stores in Oak Cliff. But he says the new paper bag is costing him.
"The cost is 15 cents per bag," he says. "We're paying currently about 1.3 cents per bag. We ordered several hundred dollars worth of bags. We don't spend $100 on bags a year currently."
But Levine says it's a fine of $500 a day for any retailer not complying with the bag ordinance.
Levine says part of the new expense is a requirement that the retailer's name and the thickness of the bag be printed on each carryout bag. No thin generic bags with "Thank You" printed on them.
Many bags are exempt. They include laundry and dry cleaning bags; trash, yard and pet waste bags; the smaller bags for produce and other food products that go in the larger carryout bags; and recyclable paper bags for restaurant take-out.
The fee also applies to non-profits, such as the Salvation Army thrift stores and the small, single SoupMobile Thrift Store on Maple Avenue. David Timothy, the SoupMobile man known for his work with the homeless community, says his clients can't afford a nickel a bag.
"If you go shopping at Sam's you carry everything in your cart and then you just throw it in your car," Timothy says. "And Sam's does leave out boxes that you can use for free. And at the SoupMobile Thrift Store we've got all kinds of boxes so we'll do the same."
The Salvation Army bought a load of 50,000 plastic bags and plans to charge the nickel. Pat Patey, a Salvation Army spokesman, says that could change down the road.
Kroger says it is printing bags specifically for its stores in Dallas – an added expense. And there's an additional step at checkout. The clerk must count the bags, enter the number in a store database, and the fee amount must show up on the receipt.
Outside a Kroger near downtown, Tara O'Connor says she doesn't mind the new fee.
"I think it's totally reasonable – five cents," she says. "We need to stop doing this -- me included."
She was loading about a dozen plastic bags of groceries into her car.
Shopper Christy Wilson takes the other side.
"I think it's ridiculous," Wilson says. "I actually live in Fort Worth. And I shop here at lunch. It'll prevent me from shopping in Dallas."
Caraway has a message for shoppers who don't want to pay a nickel a bag.
"You can easily avoid this fee by simply bringing your own bag from home," he says.
That includes one of those plastic or paper bags you used to get free.