Dallas officials say public safety and economic development are top priorities for city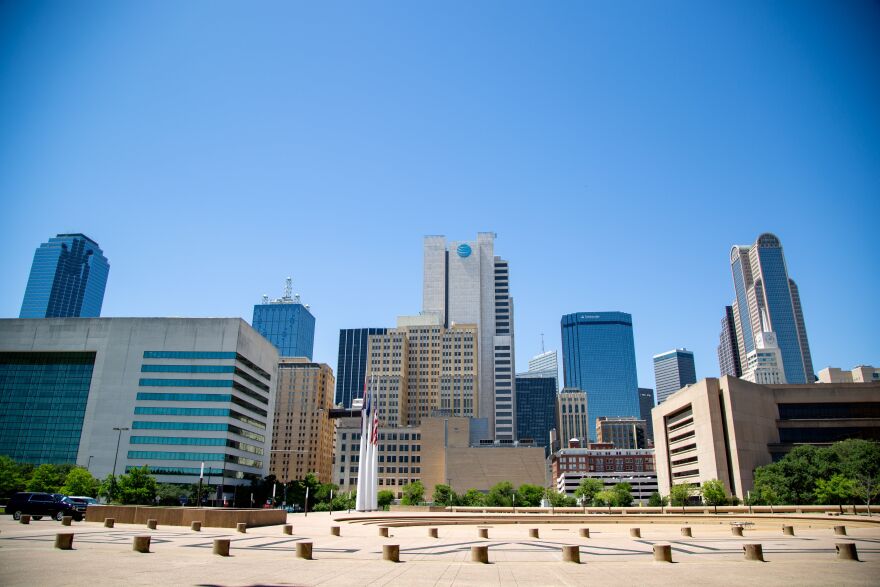 Dallas City Council members agree that public safety and economic growth are top priorities for the city.
They also identified major barriers standing in the way of addressing those goals. That's what came out of a special "vision alignment" meeting held on Wednesday.
Nearly all council members attended the meeting except for Dallas Mayor Eric Johnson, District 12 Council Member Cara Mendelsohn, District 8 Council Member Tennell Atkins and Deputy Mayor Pro Tem Omar Narvaez.
Those who did show up to the session were guided through a discussion about Dallas' greatest assets — and the challenges the city has yet to overcome.
"I want you to be thinking about the three most significant priorities for your council district," Jim Copple said during Wednesday's meeting. Copple is a facilitator brought in by the city to help structure the council member's discussion. Many of the council member's priorities for their districts had a similar theme.
Public safety
A goal is "something you should be responsible for," Copple said. Public safety was the first topic discussed when talking about city-wide priorities. Copple challenged officials to think about how they could better keep Dallas communities safe.
"What is your ownership in improving community safety?" Copple said.
Money and resources. Holding law enforcement accountable. Making sure residents trust those tasked to keep them safe.
But Council Member Casey Thomas says to really keep people safe, you need to reimagine what policing looks like.
"Look at the root causes," Thomas said. "Understand what community policing truly is."
Thomas is the outgoing representative for District 3 and will not be seeking re-election in the May election.
He says that part of keeping neighborhoods safe means teaching leaders how to "take ownership" of community safety. For others at the meeting, addressing the root causes of crime means access to essential services.
"If you have good quality housing that's safe, that'll help lift everybody up," District 1 Council Member Chad West said. "I think that goes to the root causes."
Economic development
Like public safety, city officials say increased economic growth is another goal — and concern — for most districts. But that looks different in different places.
For District 13, Council Gay Donnell Willis says economic development means updating shopping infrastructure.
"That could generate a lot of revenue for the city," Willis said. "As well as quality of life for those residents who are seeking better goods and services."
Willis also says her district has thousands of people in "very poor conditions" with an aging housing stock. That needs to change and be redeveloped, she says.
But in District 4, economic development takes on a different meaning. Mayor Pro Tem Carolyn King Arnold represents the southern Dallas district. She says in historically underserved communities, development means more than fixing roads and buildings.
"Because of the lack of investment in our communities, you have folks who have given up hope," Arnold said. "There's no trust. No communication."
In District 5, Council Member Jaime Resendez says economic development looks like investing in single-family housing options. He says the housing stock in his district is much older – to keep residents in his area, prioritizing quality housing is crucial.
"There's a lot of people willing to live in the district and build generation wealth," Resendez said.
The barriers
For as many priorities city officials identified — significant barriers were also uncovered. Council members say that "conflicting priorities" often make it hard to keep local government moving along.
But council members noted that sometimes, political will stood in the way of getting things done at City Hall.
"It been long said that in this county, we solve the problems we choose to solve," Copple said.
City officials say fixing inequity in one district can benefit the whole city. Keeping that in mind when it comes to budgeting or drafting policy is important to addressing the issue citywide.
And Mayor Pro Tem Arnold says inequity is vastly different in each district. Other districts have poverty — but more assets, like grocery stores and restaurants. District 4 isn't the same.
"There's still some prosperity in the midst of your poverty," Arnold said.
She says it's a matter of recognizing the different needs of different districts — and coming together to help each other when needed.
"You have to come here knowing that in any given [election] cycle, yes you could lose your job," Arnold said. "But while you're here, let's try and work together as much as we can."
The sparsely attended meeting was held at Thanks-Giving Square in downtown Dallas and was not broadcast like regular city council meetings.
And at least one council member suggested that the council should focus more on action than talking again about vision.
Got a tip? Email Nathan Collins at ncollins@kera.org. You can follow Nathan on Twitter @nathannotforyou.
KERA News is made possible through the generosity of our members. If you find this reporting valuable, consider making a tax-deductible gift today. Thank you.