After The Storm, A Dallas Community Comes Together To Pick Up The Pieces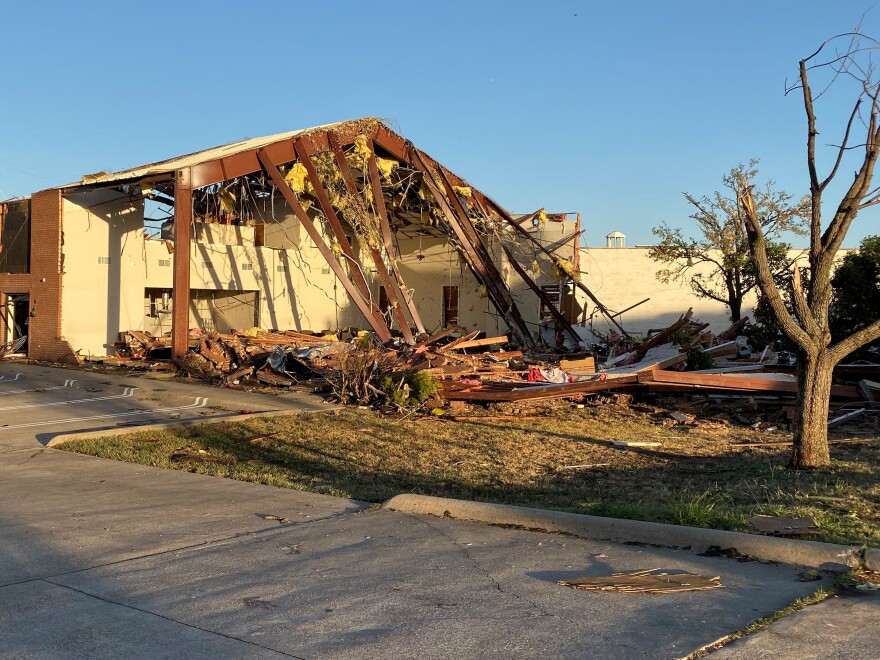 Homes and businesses near the intersection of Walnut Hill and Marsh Lanes took the most damage from the EF-3 tornado that hit northern Dallas hard Sunday.
The morning after the severe weather passed, the community came out to start putting their neighborhood back together again.
Brad Wagner was one of the neighbors pitching in.
"I'm just helping my neighbors get their stuff out of the street," he said.
He wielded large pair of gardening shears and lopped-off the twigs of fallen saplings, as another volunteer waited to chop them up with a chainsaw.
Wagner said everyone was doing what they could.
"My neighbor's making coffee and cooking all stuff that she's got in the fridge for lunch for everybody, so we're all just pulling together," he said.
The 10 volunteers had their work cut out for them removing the downed trees that filled the streets. A couple blocks away, Wendy Camarena couldn't believe how many fallen limbs were in the road.
"I mean our driveway's completely blocked. There's like an oak tree that was basically split," Camarena said.
But she counted herself as one of the lucky ones.
"Our neighbor's garage completely collapsed and fell over to our side of the fence," Camarena said.
She lives with her parents and her son. They weren't expecting a tornado or even a storm on Sunday. When it hit, they hid.
"In our hallway you can close all the doors and there's nothing in there, and we grabbed blankets and stuff," Camarena said. "I mean, it was literally over in a few minutes, but it was still really scary."
Next door, Geraldo Mendoza's roof was severely damaged. Several homes in the area completely lost their roofs. Mendoza said he was sleeping when the tornado hit.
"It happened so fast that ... it only takes two minutes, a minute, you know," Mendoza said.
He spent the morning picking up sheet metal and pieces of wood that had flown across the street. They used to be part of his patio.
Nearby on Walnut Hill Lane, Cathy Lara and her family were cleaning up Primera Iglesia Dallas where Lara is the co-pastor.
"We've been walking around in there -- a lot of devastation," Lara said.
Not too long before the tornado tore through, she was leading a Spanish-language church service. And now, the church has holes in the roof, smashed windows and water is everywhere.
"But, you know what? My father says, 'We may have lost buildings, but the church has not been damaged'," Lara said. "The church is made up of people. And I thank the lord for that, that our church was safe."
Lara said she feels bad for the two other churches next to Primera Iglesia. They were both smashed and one of them is barely even standing.
The nearby Walnut Plaza shopping center was decimated. It was a lot to take in, and Lara said she was leaning on her faith.
"We have no worries. We know the lord is with us. And as they say, 'This too shall pass'," Lara said. "We're gonna make it. We're gonna be just fine."
Lara said that the church has faced challenges before and surviving made the congregation stronger. She believes the same thing will happen this time around.