Texas Is Battling Oklahoma Over Ownership Of 10 Tiny Bibles Launched Into Space In The '70s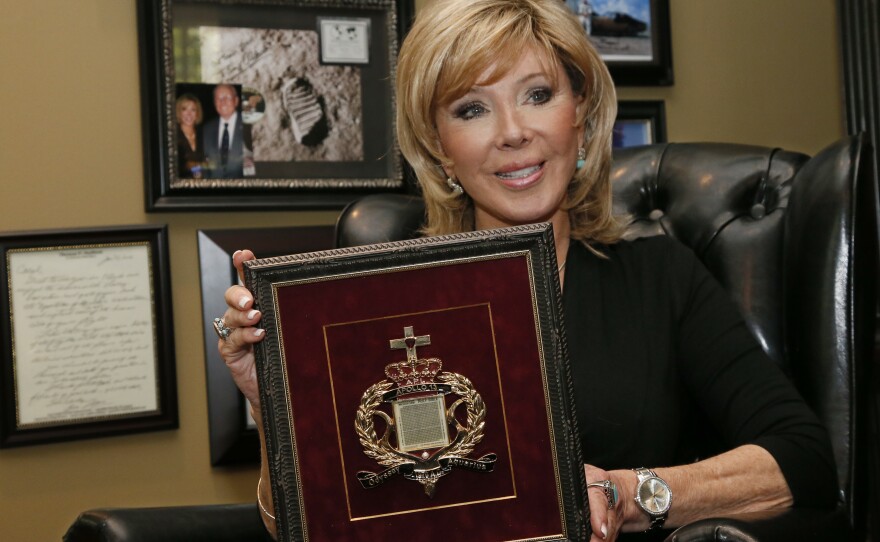 Carol Mersch holds a copy of a microfilm Bible that flew in orbit around the moon on Apollo 13. The Bibles initially were supposed to land with astronauts on the moon on Apollo 13, but the 1970 mission was aborted after an explosion.
Sue Ogrocki
Carol Mersch holds a copy of a microfilm Bible that flew in orbit around the moon on Apollo 13 during an interview in her home in Tulsa on April 18.
Sue Ogrocki
Five stories that have North Texas talking: Texas wants those lunar Bibles back; Dallas police is short-staffed; who really writes the bills in the lege?; and more.
Texas and Oklahoma are disputing the rightful ownership of 10 microfilm Bibles that were, along with astronauts, launched into space more than 45 years ago. Eight of the 10 landed on the surface of the moon during NASA's Apollo 14 mission in 1971, carried in a pouch by astronaut Edgar Mitchell. Bringing the Bibles to space was the idea of the Apollo Prayer League, which formed in the late '60s and was co-founded by the late NASA chaplain John M. Stout. After the mission, Stout gave away some Bibles and stowed the rest in his Texas apartment.
As The Associated Press reports, the "first lunar Bibles" now reside at the Tulsa County courthouse. There's a hearing set for May 3 to determine who owns them — Texas or Carol Mersch of Tulsa, who befriended Stout in 2009 while working on a book about attempts to land a Bible on the moon. She claims Stout gave her the Bibles and has a certificate signed by Stout and Mitchell. Texas attorneys argue that Stout's son Jonathan should inherit the Bibles. Stout and his wife, now both deceased, became wards of the state in their old age, and their son raised concerns about their health. [AP]
The High Five is KERA's daily roundup of news stories from Dallas-Fort Worth and across the state. Explore our archives here. And sign up for our weekly email for the North Texas news you need to know.