Google Will Potentially Expand Its Fiber-Optic, High-Speed Internet Service To Dallas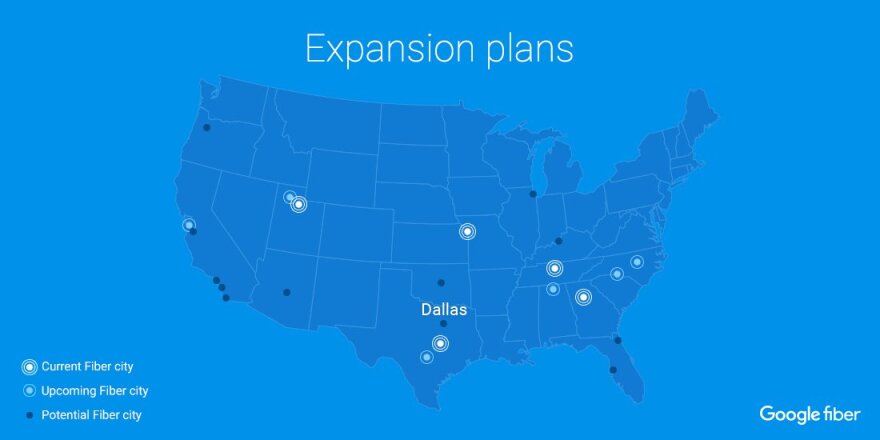 Five stories that have North Texas talking: Dallas would be the third city in Texas to have access to Google's high-speed internet; several memorial services for Orlando victims will be held in Dallas this week; these D-FW animals probably have more Instagram followers than you; and more.
Google Fiber, the tech monolith's super fast (1,000 megabits per second versus average of 14.2) internet and television service could potentially come to Dallas. Austin has Fiber for months, and San Antonio is undergoing construction for the service, meaning thousands of miles of fiber optic cables are being built directly to businesses and homes, according to a blog post from Google.
Now, the Mountain View, California-based company is looking into expanding its Texas reach, citing Dallas as one of the "best cities to work in tech." While Dallas is appealing to Google, the company says implementing Fiber will be a "huge undertaking."
"Working alongside Mayor Mike Rawlings and local leaders, we'll use our Fiber checklist to learn more about local topography, existing infrastructure, and other factors that may impact construction. Building a fiber optic network through a dense and complex urban environment like Dallas is challenging—these discussions will help us deploy our network efficiently and responsibly."
Google contacted the city last month to gauge its interest, according to The Verge. However, when San Antonio was named as one of Google's "potential cities" like Dallas is now, it took the company 17 months to make final decision. If the timeline played out similarly, Dallas residents could be in for a wait.
Besides powerful internet and television service, Google hopes the Dallas community would benefit economically. Installing Fiber could provide a couple hundred construction jobs, Dallas Business Journal reported.
But, Jill Szuchmacher, Fiber's director of expansion, told the publication "Google would rather think about what this service will do in the long-run for Dallas: what opportunities Fiber will create for small businesses and startups; and what this will enable the city and community to do."
See the other cities being considered for the service. [Google, Dallas Business Journal, The Verge, The Associated Press]