President John F. Kennedy's assassination is an unforgettable part of Dallas' history.Nearly 54 years later, scholars and enthusiasts alike are still processing details from that fateful drive through Dealey Plaza now that the remaining investigation files have been unsealed. For the 50th anniversary in 2013, KERA produced special stories and reports from the commemoration:The 50th: Remembering John F. Kennedy was KERA's live, two-hour special covering the official commemoration event at Dealey Plaza in Dallas on Nov. 22, 2013. Hosted by Krys Boyd and Shelley Kofler, the special includes reports from KERA reporters before the ceremony begins. Listen to the special here.Bells tolled across the city, and the event featured historian David McCullough, who read from Kennedy's presidential speeches; Dallas Mayor Mike Rawlings; religious leaders; the U.S. Naval Academy Men's Glee Club; and a moment of silence. Read highlights from the event from KERA's live blog from that day.Throughout the month, KERA posted an online series called 22 Days In November, which takes a closer look at that fateful day, what it meant to the country and how it affected Dallas.We shared stories and memories in a series called "JFK Voices." Explore our archives below.
Prosecutor Says Gov. Rick Perry Is Making A Mockery Of The Justice System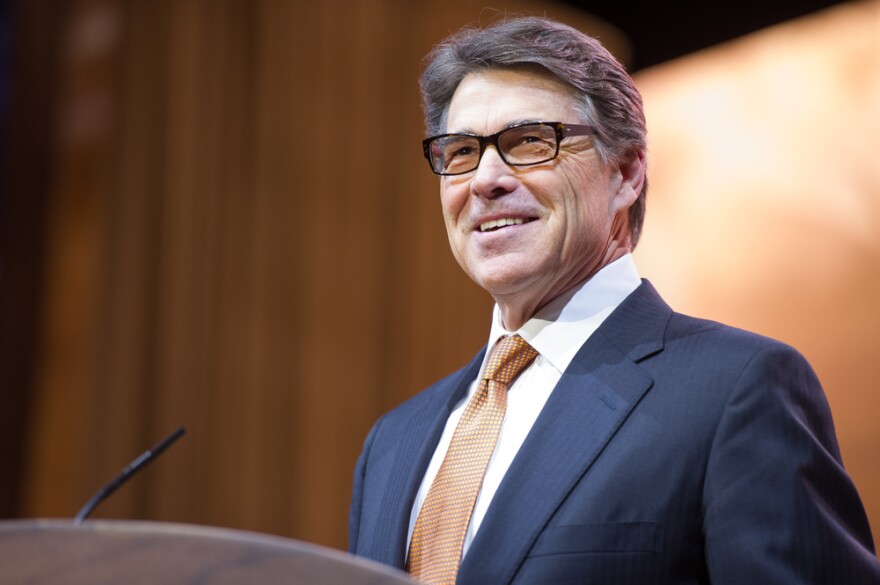 Five stories that have North Texas talking: The special prosecutor on Rick Perry's obstruction of justice case has some sharp words, Dallas Fed president and CEO will step down next year, a Dallas City Tour bus has questionable art, and more.
Gov. Rick Perry's attorneys asked a judge Monday to excuse the governor from a pretrial hearing because of out-of-country commitments. The special prosecutor on the case, Michael McCrum, has reacted strongly to the request.
"In my 30 years of practice, I've never had a defense lawyer show up and say, 'Can my client just not appear for all these pretrial conferences,'" McCrum told the Austin-American Statesman and KVUE TV.
An Austin grand jury indicted Perry in August on two felony counts of abuse of power for threatening to veto state funding for a public corruption investigative unit. The judge on the case hasn't determined yet whether he will be excused from the Oct. 13 hearing. The governor visited Asia this month and plans to tour Europe in October to promote Texas economic development.