Memories Of A Dream: Dallas Reverend Recalls 1963 In Washington D.C.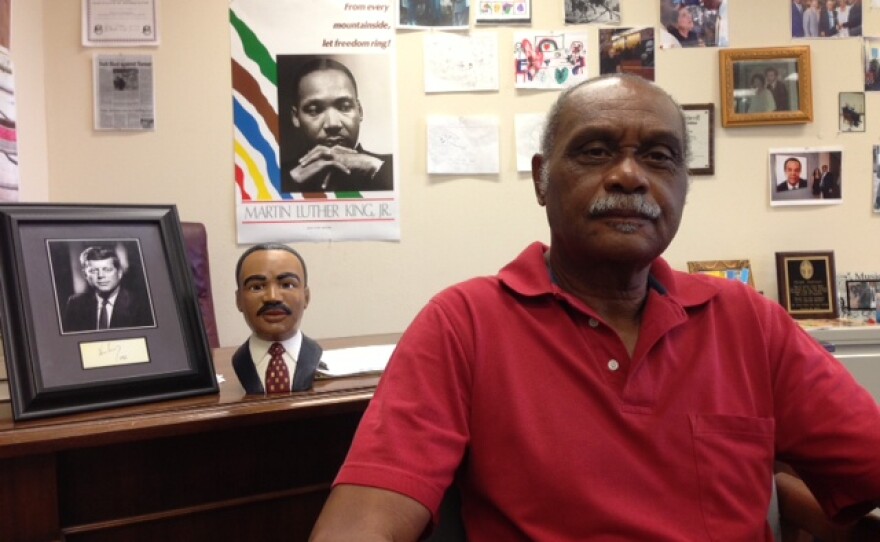 Courtney Collins / KERA News
Courtney Collins / KERA News
Courtney Collins / KERA News
Wednesday in Washington D.C., America will commemorate a speech that changed the world.
Martin Luther King Jr.'s "I have a dream" speech is just as powerful today as in 1963.
Dallas Reverend Peter Johnson was a skinny 18 year-old that summer, fresh from jail. He remembers every detail from his trip to the March on Washington where he heard Dr. King's profound words on the steps of the Lincoln Memorial.
Johnson also remembers where he first fought for civil rights; on the river by his tiny hometown in south Louisiana.
It all started on a ferry boat, smack dab in the middle of the Mississippi. Johnson and a group of integrated friends decided they wouldn't sit in their racially assigned waiting rooms. Not surprisingly, Johnson says he and the others were beaten and arrested. It was the first time he went to jail for fighting for civil rights, but it wouldn't be the last.
Johnson's church became a hub for the civil rights movement in Louisiana.
"My home church, the Plymouth Rock Baptist Church was tear gas bombed four time. It is the church where we took James Farmer and hid him in a coffin and put him in a hearse to keep them from killing him and that's how we got him out of Louisiana," Johnson says.
Because many of the older leaders from his hometown were in jail at the time of the March on Washington, Johnson led the Louisiana leg to Washington D.C. for the big event. He still has vivid memories of Dr. King's speech.
"That day I climbed up in a tree and I remember being up in that tree and looking at this tremendous picture of America. Blacks and whites and Hispanics stretching from one end of the Washington Mall to the other end. And listening to Dr. Martin Luther King tell the world about his dream," Johnson says. "It's a powerful kind of experience for an 18 year-old little boy. It's an experience I'll never forget."
Johnson says Trayvon Martin, "stop and frisk," and stand your ground laws are all evidence that Dr. King's dream has yet to be realized in black America.
Instead of going to D.C. for the 50th anniversary, Johnson plans to celebrate the civil rights movement's anniversary in Louisiana.