North Texas food banks prepare for another uncertain year as COVID-19 omicron variant hits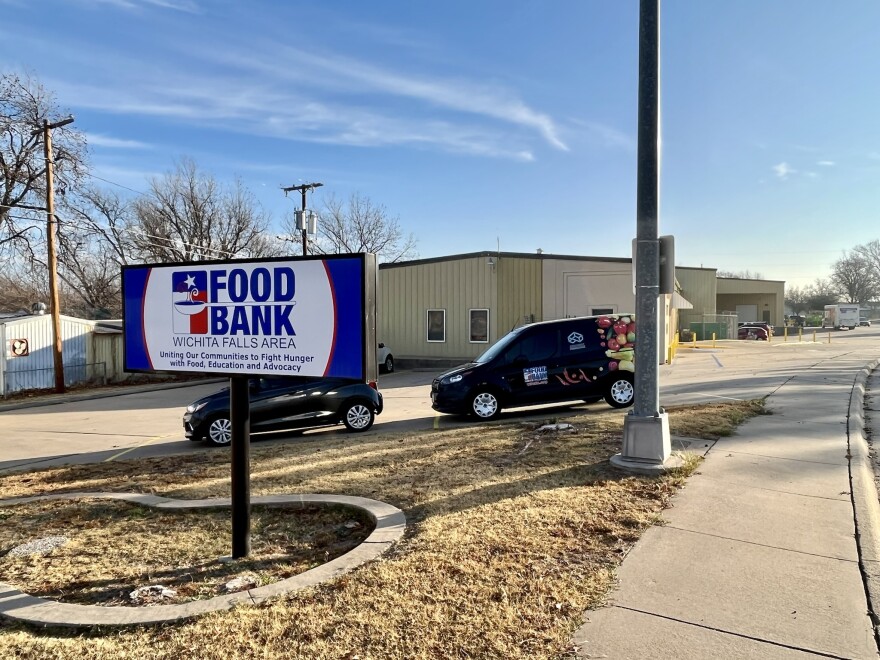 Food banks across North Texas are preparing for another uncertain year as the new COVID-19 variant omicron spreads across the country.
For Kara Nickens, CEO of the Wichita Falls Area Food Bank, 2021 looked a lot like 2020.
"Last year, we [distributed] 4.4 million pounds of food, and we're right on track to end with that same amount," Nickens said. "We're a small food bank. So for us, that's a lot. It really pushes the limit because we have such a small staff here, and we have a 12-county area."
The organization's warehouse is full now, she said, but it wasn't always like that.
"Once the pandemic hit, we literally got down to probably about a two-week supply of food," Nickens said. "And when I say two-week supply, it was more like snacks and things because we got hit so hard, so fast, and the food supply chain backed up."
If you find this reporting valuable, consider making a
tax-deductible donation
today. KERA News is made possible through the generosity of our members. Thank you.
Cody Howard, executive director of Mission Texarkana, said 2021 has been a "struggle to get back to normal." The organization provides food and job training to people experiencing food insecurity and homelessness.
"2020 threw us into unknown territory," said Howard. "We didn't know how much to prepare, when to prepare, all those things."
Howard said the organization is the "main feeding center in Texarkana during the day." It usually provides around 65,000 meals to people a year, which dipped to about a third of that in 2020. Howard said this year their numbers have gone back up in 2021.
The unpredictability of the past two years has been made planning for the future a challenge.
Nickens remembers early in the pandemic, she and other staff members from the food bank went to a local area church to help with the distribution. The line of people waiting was miles long next to the highway. Eventually, they ran out of food, and had to send staff members down the line to let people know.
"The line was probably still half a mile to a mile long, telling these people that have been there for hours," Nickens said. "That was my first day of crying and food banking. Because people are just so grateful for a box of food, and they've waited in line, and we're out."
She said a spike in cases and rising food costs will most likely mean more people coming to the food bank for support. The issue is she doesn't expect the same state or federal coronavirus relief funding, as programs like the Coronavirus Response and Relief Supplemental Act haven't been renewed yet.
Next year, both organizations are hoping to expand to serve more people.
"We're trying to find a warehouse to store excess food, trying to get more vehicles and find a place so that we can have more outreach," said Nickens. "We're just landlocked and compact where we are, but we could have more of an impact if we had the facilities."
Howard said Mission Texarkana is fundraising now to build a day shelter. He hopes the location will be able to offer people assistance in looking for jobs, applying for identification and getting mental health counseling.
Got a tip? Email Elena Rivera at erivera@kera.org. You can follow Elena on Twitter @elenaiswriting.