A Space To Heal: Families Create Memorial Garden For Victims Of Gun Violence
Losing a loved one to gun violence is a life-changing event, one that happens in the U.S. nearly 40,000 times a year. Some surviving family and friends go to support groups or grieve behind closed doors. But one group of mothers in New Haven, Connecticut, is working to take their healing to a new location: a botanical garden dedicated to the thousands of victims claimed by gun violence across the country.
It's been more than five years since Celeste Robinson-Fulcher's daughter Erika was shot and killed and five others were wounded at a nightclub in New Haven.
"She was an absolute joy to everyone," Robinson-Fulcher said. "Just from the sight of her funeral alone, we were just amazed at so many people she'd reached. She was all about being who you are."
It took more than a year for Robinson-Fulcher to start attending a support group at the urging of her therapist.
"When it first happened it was like, 'I thought my life was over,'" she said. "I didn't even want to live, I had lots of thoughts of suicide because of the pain. I just wanted the pain to stop."
Robinson-Fulcher suffered from panic attacks, anxiety and depression following her daughter's death. In many ways, it was debilitating. She struggled to be present at work.
Leaving the house meant she might see another mother with her daughter at the store or the mall, things she could never experience again. And when it came to support groups, she wasn't completely sold. To her, they meant reliving her loss and hearing stories of other people losing their children.
The Road To Healing
In late 2014, she started attending the Survivors of Homicide support group that meets in New Haven.
After working through some of her grief and learning coping mechanisms, in 2017, Robinson-Fulcher had the strength to leave her home in West Haven for long walks and drives.
Then, that same year the vision for a healing garden was presented to her by Marlene Miller-Pratt, another mother who'd lost a child to gun violence. At the time, Miller-Pratt wasn't a regular in the Survivors of Homicide support group but knew what it was like to lose a child.
She'd spent years at the nearby Marsh Botanical Garden on Yale University's campus grieving and healing.
And that's what sparked the idea to create a garden that was specifically dedicated to victims of gun violence. Robinson-Fulcher was on-board as soon as she heard the idea. She has been one of the core organizers, from planning to planting.
"When we go to a grave site, to me it just like brings your energy down," Robinson-Fulcher said. "So in the future when you come here, it's just uplifting."
More than 600 people have been shot and killed in New Haven since 1976. Eventually, the garden will feature bricks engraved with each of their names. It will be a permanent memorial to them and honor victims of gun violence across the country.
"It's sad on the sight of seeing the magnitude of the names that's going to take place," Robinson-Fulcher said, "but then we're giving everybody in the community, families, an opportunity to come out."
A Dedicated Space
The garden is a collaboration between members of the Survivors of Homicide support group, Yale University's Urban Resources Initiative and the City of New Haven.
It's a half-acre stretch that runs along Valley Street in New Haven, nestled between a neighborhood and a block of restaurants and shops. Its positioning along a busy street is intentional, meant to draw people in.
Right now, the space looks more like an open grassy field than a garden, but the mothers hold the vision of what it will become close to their hearts, busying themselves with the beginning of its transformation.
Its official name is lengthy —The New Haven Botanical Garden of Healing Dedicated to Victims of Gun Violence — but its mission is simple: to help ease the pain.
On a Saturday in July, the mothers gathered to continue planting a row of trees to line the edges of the garden. The gentle flow of the West River, the freshwater stream that makes a natural border on the other side of the field, offers soothing sounds underneath the shade of trees that aren't new additions to the garden. In the backdrop is West Rock Mountain. It's a peaceful setting.
Construction on the rest of the garden is slated to begin this fall but these moms aren't wasting any time. Knowing the garden is becoming a reality brings them out each Saturday in the summer heat.
"It's a blessing when you know you can go somewhere and sit and talk to your child and have your mind correctly," said Demethra Telford, who goes by Marina Queen Bey. "It's going to be a wonderful thing, somewhere I can come and talk to him."
Her son Tyrick Keyes was only 14 when he was shot and killed in New Haven in 2017.
"I'm not going to ever heal from it because when they took him, they took me," Bey said. "They took a big part of my heart."
While Bey can't physically help with the garden because of health issues, she enjoys coming out on Saturdays for fellowship with other mothers. New mothers often show up for Saturday planting sessions.
For Juanita Byrd-Pemberton, working in the garden helps her feel resilient and a sense of hope.
"I just wasn't ready to be involved in anything pertaining to my son's murder and remembrance of it in this way," Byrd-Pemberton said, "but I'm here now."
Her son Neville Malacai Registe Jr. was 22 when he was shot and killed.
That day at the garden, Byrd-Pemberton and her family members wore shirts with her son's picture on it. She worked on the side of the field near the river, pulling up weeds and clearing away brush with her daughter.
Byrd-Pemberton doesn't want her daughter or future generations to have to keep dealing with gun violence.
"Every day, every weekend there's a shooting [with] guns that are rampant in these streets and people not dealing with their anger in a more positive way," Byrd-Pemberton said, "and people thinking they can take somebody's life because you're upset or you don't like them or they don't belong here — senseless."
She hopes that they'll create programs at the garden that can get children and teens, some who live to become shooters, involved in other activities.
"The violence needs to stop and get these children that are killing children involved in other activities," Byrd-Pemberton said.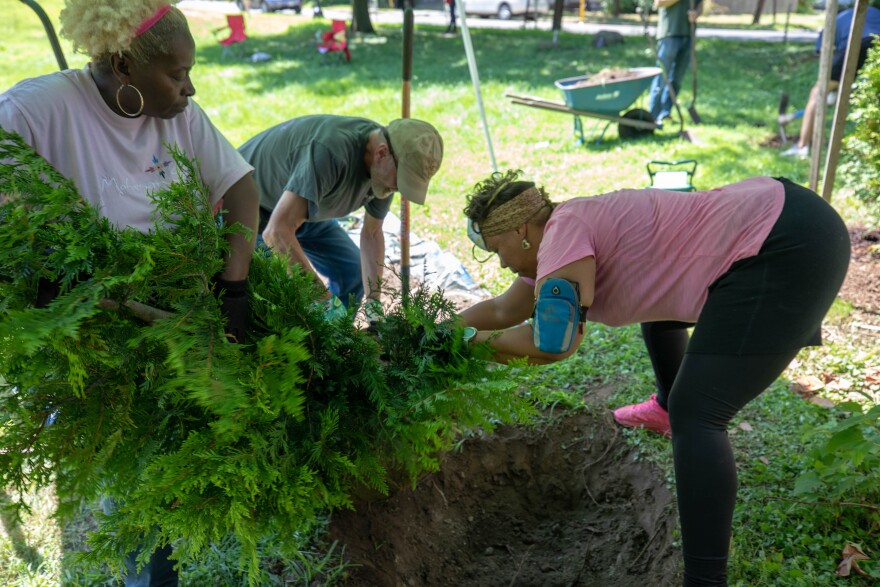 Healing In New Soil
The trees the mothers have been planting this summer are just the beginning.
"When I look at the trees I see happiness, joy, love and just the idea that it's there forever," Robinson-Fulcher said. "It's exciting — whenever you ride by, that's where your eyes automatically go, that you had hands on that tree."
She says the garden has helped her find a new sense of energy and excitement. One that doesn't come from talking in a support group.
"The garden is bringing out a new part of me that I wasn't even aware of," Robinson-Fulcher said. "I'm excited about that person, about who I am becoming. I know my daughter would be proud."
Along with memorial bricks, the garden will feature a personal memory wall, wind chimes, a sculpture and sitting areas.
Svigals + Partners, the firm that designed the new Sandy Hook Elementary School, is one of the garden's designers. Organizers say they plan to complete the garden in 2020. The mothers want it to be a space in New Haven and for visitors across the country to come to find peace and serenity while thinking about their loved ones.
Guns & America is a public media reporting project on the role of guns in American life.