On Our Minds is the name of KERA's mental health news initiative. The station began focusing on the issue in 2013, after the mass shooting in Newtown, Connecticut. Coverage is funded in part by the Donna Wilhelm Family Fund and Cigna.
For Older Adults, Mental Illness Often Goes Undiagnosed Or Untreated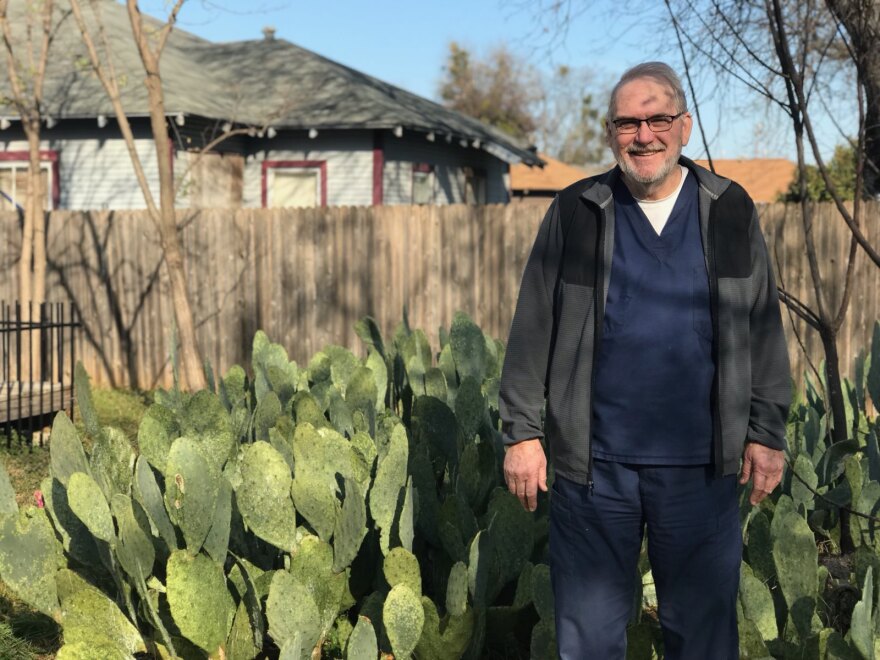 Doug Delaney calls his North Dallas home a funky McMansion, with a sprawling garden of cacti, trees and wild grasses covering the entire backyard.
"That's a chinaberry tree, those are chinaberry branches," the 69-year-old said. "I brought them in just for sculptural effect. ... I just play with it."
Delaney is an avid gardener and baseball lover. He enjoys going to church on Sunday mornings and lounging around the house with his dog, Peanut.
Outwardly, he seems to be the picture of health. Inside? He struggles.
"The difficulty with mental illness is that many times it doesn't manifest," he said. "People look at me and they'd say, 'Nothing's wrong with Delaney,' you know? 'He gets up, he goes about his business, he goes to bed, he gets up the next day.'"
'Slogging around in wet concrete'
Delaney has lived with depression and bipolar disorder since his 20s and was finally diagnosed in his 40s.
He says he's learned to cope over the years with the help of gardening, medication and therapy. But it took time for him to get here.
"There were times when I felt like I'd just fallen into a deep, dark hole and was slogging around in wet concrete when I wasn't," he said.
Mental health problems are largely underdiagnosed and undertreated in adults 60 and over. One in five adults age 60 and over have a mental or neurological disorder and many of these illnesses go undiagnosed and untreated, according to the World Health Organization.
Physical health linked with mental health
One explanation is that mental disorders often accompany physical health problems.
Dr. Charles Herlihy is a psychiatrist and director of the geriatric behavioral unit of Medical City North Hills in North Richland Hills.
"We have several people up here that live alone in an independent living setting -- their spouses died. They're pretty lonely," Herlihy said. "You've got to somehow overcome that."
If they don't, that's when problems can arise, he said.
"It can set off a cascade of illnesses: chest pain, stomach pain, stress-related symptoms and then clinical depression," Herlihy said.
The process can also work in reverse. Untreated depression can worsen heart disease, hypertension, diabetes and other health problems.
That hasn't been Delaney's experience. But he did suffer for more than 20 years before seeking treatment.
"I may have felt like I could deal with it, that yes it was there, but I could manage it," Delaney said.
Overcoming stigma
Stigma also plays a large role in the treatment of older adults with mental illness.
Philip Baiden is a professor of social work at the University of Texas at Arlington. His research interests include the social factors that determine mental health.
"There's a general perception that it is OK to seek services for general health functioning," Baiden said. "But when it comes to mental health, there's a huge stigma that they're supposed to be resilient and deal with it."
Baiden says if people would talk about mental health and support their older adult friends and family, it would help eliminate the stigma.
That kind of support from family was key for Delaney.
"I feel tremendous gratitude that I don't have to struggle with the lows that I experienced earlier in life," Delaney said. "I have particular issues that have led to a very interesting journey, and that's a good thing. That's not a bad thing. It's been a very interesting ride."
Resources
National Council on Aging: Behavioral Health
World Health Organization: Mental Health of Older Adults
SAMHSA-HRSA Center for Integrated Health Solutions: Resources For Older Adults