Uber, Lyft Get The Green Light To Operate Legally In Dallas
Months after controversy erupted, the Dallas City Council on Wednesday approved new rules that will regulate Uber, Lyft and other car-sharing services in the city. The vote was 13-2.
Dallas staff and council members researched and debated for almost a year if and how to regulate emergent ride-share services. Council member Jennifer Staubach Gates pointed out people are already using services like Uber and Lyft through smartphone apps.
"We've heard from the citizens," Staubach Gates said. "They want transportation options. We know it makes for a good city when we have out of town visitors, that they know different forms of transportation and we're able to provide them. We have to accept it's time for a change."
Yellow Cab owner Jack Bewley isn't ready for such a change. He's led the fight against the upstart transportation services, demanding drivers pass drug and background tests and carry insurance comparable to what cab companies must have. He said Uber and Lyft won't be able to get insurance.
"The insurance companies are going to deny because they're going to say I don't know if your app's on or your app's off. And not only that, the person that you hit - they're the one person that never knows if your app was on or your app was off," Bewley said.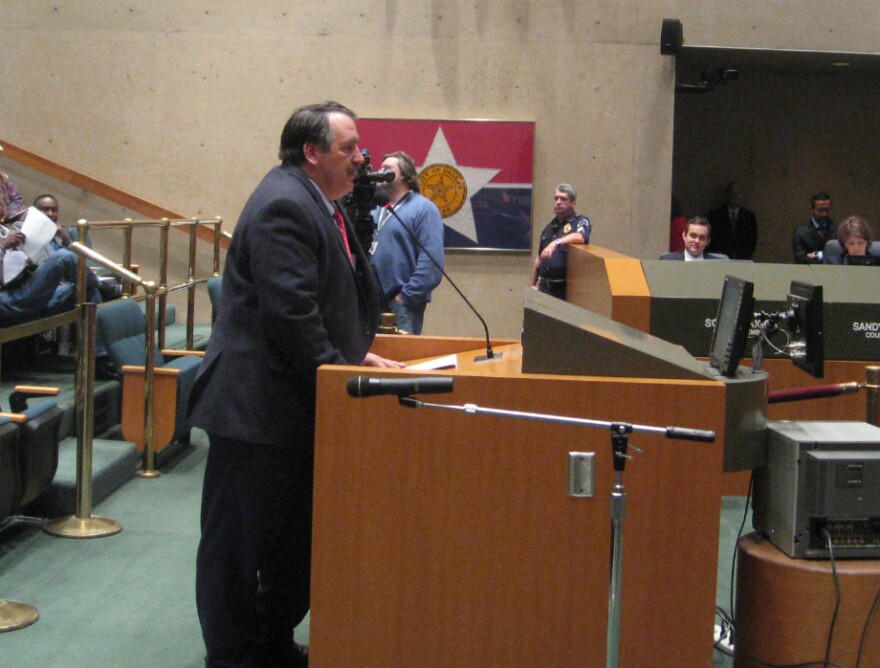 But his arguments, echoed by council members Carolyn Davis and Dwaine Caraway – the two 'no' votes - didn't sway any others.
Council member Sandy Greyson worked for months on the ordinance the council approved. She said the rules were written to be fair to all transportation providers, whether it's Uber, Lyft, Yellow Cab, independent taxis, or limousine drivers.
"If they cannot meet our insurance requirement spelled out in this ordinance, they will not get an operating permit. And they will not be allowed to operate in the city of Dallas," Greyson said.
Council member Vonciel Jones Hill said the new ordinance is a needed and good start.
"We have transportation-for-hire operators now who are not regulated," she said. "If we do not pass this ordinance today, they will continue to be not regulated. Nothing could be more unfair to the citizens. This ordinance is a good place to start."
Girma Wolde-Rufael used to be an independent cab driver who now owns Star Cab. He said the new ordinance opens up the market not just for the app-based services, but his company, currently limited to 87 cabs. He says Yellow runs more than 1,500.
"Today there is no limit anymore," Wolde-Rufael said. "If we have the capacity, we can grow as much as we want. We can go into any other transportation business. There is no limit. So this is radical."
Radical in a good way, he added. The ordinance takes effect April 30. It requires background checks for drivers, beefed up safety inspection for vehicles, and commercial drivers insurance that takes paying passengers into account.