Fort Worth's Junior Medical School Nurtures The Dream To Be A Doctor
13 year-old Dominique Sennet prepares the pig eyeball for further dissection
Bill Zeeble
Every student in Fort Worth's medical camp junior got one of these pig eyeballs. They had to dissect and identify parts of the eyeball as taught by surgeon and teacher Dr. Courtney Crawford
Bill Zeeble
Dr. Courtney Crawford is a surgeon and retina specialist in Fort Worth. Teaching kids, hoping to inspire them, is among his top motivators.
Bill Zeeble
Some physicians knew they wanted to be doctors since grade school. Others figured it out after taking classes in science and technology or by spending a week in a program like Fort Worth's Junior Medical School.
Eye surgeon Courtney Crawford moves the 25 classroom desks into a horseshoe and walks in the center talking to this room of eager 8th graders.
This is the first day of camp, and the retina specialist helps these kids absorb today's hands-on lesson — dissecting a pig's eye.
"Ok!" Crawford says. "So examine the front part of the eye. You can actually pick it up with your gloves. Locate the eye, lid, cornea…"
Twenty young teens from Fort Worth ISD are enrolled in Junior Medical School. In its third year, the program is a joint effort by Texas Christian University and the University of North Texas Health Science Center in Fort Worth.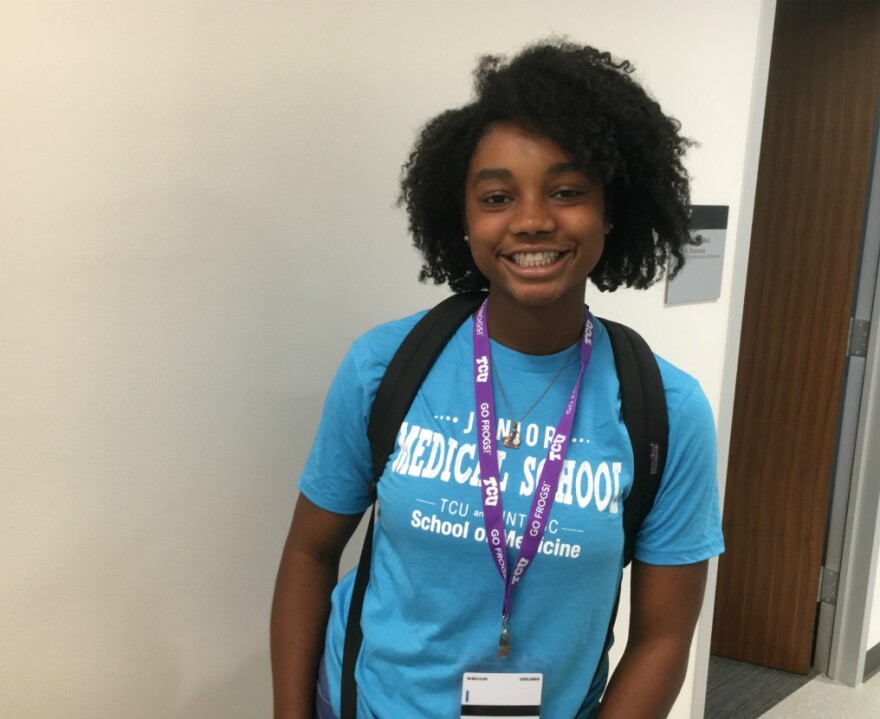 On this day, a large TCU classroom has been turned into a lab. Students sit at their desks, empty paper plates in front of them, as they're being served moist, squishy little globes, the kind that gross some people out.
"Yes. Just a little bit," says 13 year-old Christopher Vargas. The middle schooler holds surgical tweezers and scissors. He quickly gets past any queasiness.
"Well it's not going to do anything. It's not going to like come at me and kill me," Christopher says. "So it's not, it's not harming me so why not just do it?"
The first thing to do, says 13 year-old Dominque Sennet, is to clean things up. She explains what she's trying to do. "I'm cutting off the mushy part of the eye," Dominique says.
That's so she can get to the meat of this lesson.
"I've never cut into the cornea of an eye, so it's kind of difficult to like, maneuver it because it's kind of slimy," Dominique explains. "But I guess it's kind of cool because it's a new experience."
For Dominique and these students, this is fun, not gross.
Across campus, a group of older students are learning emergency life-saving techniques. Fifteen year-old Angel Smith is a camp veteran and a fan, so she's back for a third year.
"Yesterday, we talked to a physicist. I've never talked to a physicist before, so that was really different," Angel says. "We talked to a bio-medical engineer, we've had optometrists come in."
Angel and her campmates aren't just hearing from experts. On practice dummies, they are learning proper chest compression techniques for CPR.
Counselor Kassidy Fretz is a freshman medical student at the new TCU-UNT Health Science Center medical school. She said she wishes she'd had a program like this when she was younger.
"I wish I got to try to do peripheral IVs and CPR and ultrasounds," Fretz says. "It would have been really nice to know what you're looking at realistically."
Eye surgeon Courtney Crawford sees the value of this summertime camp. He viewed his time with these kids as a worthy investment
"This is where the dream starts. And you need [that] dream to stay motivated. There were a lot of dark times in medical school and beyond, that it's like 'Why am I doing this?' But I think it's those early dreams that really keep you motivated," Crawford says.
At this camp, he hopes he's planting those dreams.