7,000 Shoes And Counting: Dallas Teen Actors Build Public Set For New Play On Gun Violence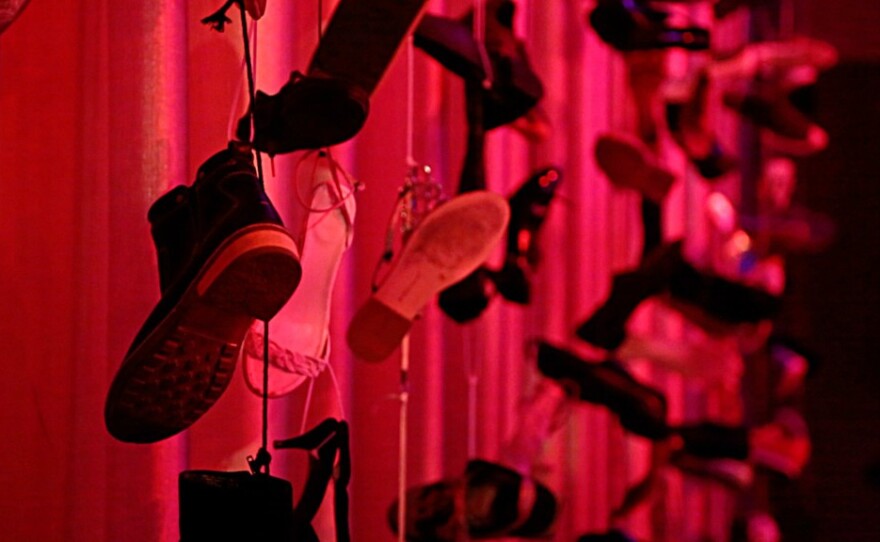 Dallas' Cry Havoc Theater Company has been developing a play about gun violence called "Babel" and built a set for the play as a public art installation that anyone can see separate from the show, called "The Cenotaph."
Dane Walters / KERA News
As the production designer of "Babel," Bart McGeehon created the art installation in Hamon Hall.
Dane Walters / KERA News
At Hamon Hall inside Dallas' Winspear Opera House, volunteers sort through some 7,000 donated shoes on the floor. Sneakers, flip-flops, high heels, hiking boots, baby shoes.
Gun violence, says Bart McGeehon, "touches us all."
McGeehon, the production designer of "Babel," directs a small army of Cry Havoc actors and volunteers as they empty laundry hamper after laundry hamper, plastic box after box — all of them filled with shoes.
The teen theater company has developed a play about gun violence called "Babel." They've built a set for their play as a public art installation that anyone can see separate from the show, called "The Cenotaph." The room-sized artwork uses video projections plus lots and lots of shoes.
Why 7,000
"We will hang the number of shoes of people that have been touched by gun violence in America to that given day," McGeehon said.
Each shoe represents another victim of gun violence. A third of all gun deaths in America — about 12,000 in total each year — are homicides. McGeehon calculated there'd be between 7,000 to 8,000 gun deaths by this month.
"The show itself runs for about three weeks," he said. "We will add shoes daily to show how many people were affected that particular day."
For the art installation, McGeehon stored the donated shoes in rolling laundry hampers as they came in from AT&T Performing Arts Center staff, One Arts Plaza and other sources. He figured out a way to dangle the shoes down Hamon Hall's four walls by hooking them together in 226 strands with zip ties and safety cables. The shoes are suspended 21 feet into the air.
Why shoes
Partly, it was Hamon Hall. It's the Winspear's smaller venue, but it's still a tall, handsome room with a shining wood floor.
"Hamon Hall has shimmery, sparkling curtains," said Mara Richards Bim, executive director of Cry Havoc. "It's a beautiful space. And I was trying to wrap my head around how we would do a show that I knew would be so...painful?"
"Babel" contains interviews with parents whose children were shot to death, interviews with politicians debating gun rights versus gun control. But Richards Bim also had to wrap her head around how to make the sheer number of gun deaths in America meaningful to visitors.
For instance, the numbers of gun deaths typically listed may only be homicides or homicides plus accidents. They do not include suicides. Yet suicides by guns represent two-thirds of all gun-related deaths in the country.
In 2016, a total of 38,000 people were shot to death — by themselves, by someone else or by accident.
"When numbers get really big, people don't identify with them," Richards Bim said. "How do you quantify thousands of people lost to guns?"
Eventually Richards Bim recalled the famous room of shoes at the United States Holocaust Memorial Museum in Washington D. C. They were all confiscated from Jewish prisoners at a single Nazi concentration camp.
More: https://youtu.be/s3uehDK51C8" target="_blank">Watch this video from Art&Seek about "The Cenotaph"
When she told McGeehon her idea for a curtain of shoes, he immediately started considering the technical challenges.
"Then I started thinking about it from a philosophical point of view," he said. "And I just sort of teared up. In the world of gun violence, people are running away from it."
Hence, the shoes. They made artistic sense, emotional sense, and McGeehon could make the idea work.
"I called AT&T PAC the next day and was like, 'I have this really, really crazy idea, and you're going to say no,'" Richards Bim recalled. "And they didn't!"
Actually, administrators at the AT&T Performing Arts Center liked the idea so much, they wanted to make it more than a set design with video projections. It should be its own artwork.
"So, it's two separate events, both funded by the Center and the Office of Cultural Affairs," McGeehon said. "There is the art installation, which will be open from 9 to 5 every single day that people can come in and see, and there's the performances of 'Babel.'"
'The Cenotaph'
In Hamon Hall, the shoes are now in separate piles. People have started to zip-tie them into long chains. When the show is over, any usable shoes will be donated to homeless shelters.
Lillie Davidson is one of Cry Havoc's actors and an eighth grader at Grand Prairie Fine Arts Academy. She works alongside a dozen volunteers.
"This is one of the few times in my life that I've been truly in awe of what a bunch of people can do when they come together," she said. "A few hours ago it was all still in boxes, but now we've got some order."
When people wander in from the Winspear lobby to check out what's going on inside the Hamon, and the meaning of all these shoes is explained to them, they get quiet. This entire art installation is called "The Cenotaph," an ancient Greek term.
"It is an open-air monument that was usually used to honor people fallen in war," Richards Bim explained. "And it does not contain bodies. Their bodies were buried elsewhere."
Cenotaph literally means "empty tomb." The John F. Kennedy Memorial in downtown Dallas is a giant cenotaph. A cenotaph is empty to evoke all that was lost to death, all that's now gone.
Like each one of these empty shoes.
Learn more
"Babel: A Play About Guns," by Cry Havoc Theater will run at Hamon Hall in the Winspear Opera House through July 15. Follow Art&Seek's coverage of Cry Havoc's lengthy development of "Babel," including an interrupted visit to the NRA convention in Dallas in May.