Lake Highlands Seniors Vote for First Time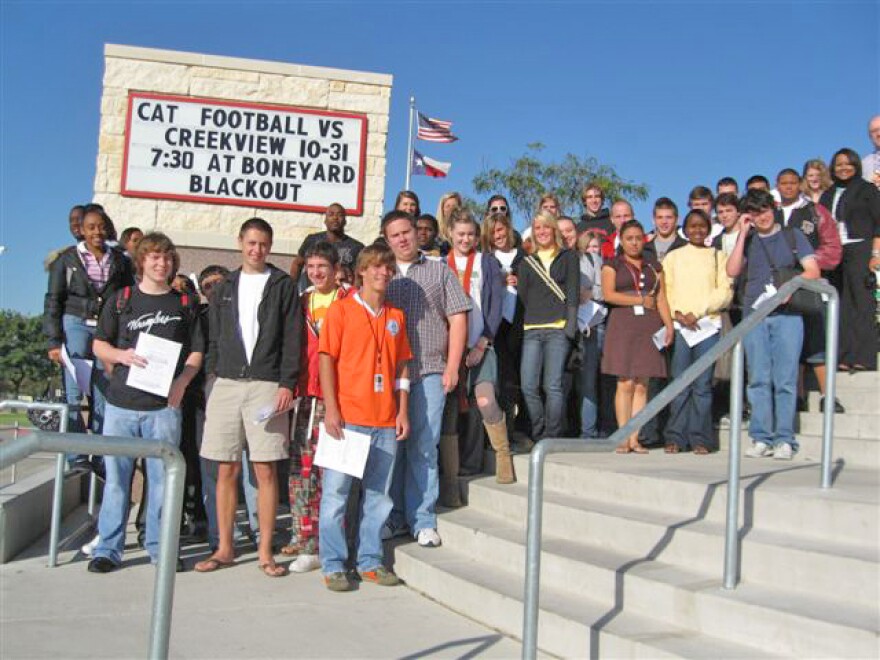 By BJ Austin, KERA Reporter
http://stream.publicbroadcasting.net/production/mp3/kera/local-kera-783219.mp3
Dallas, TX – It was a very important field trip for 45 seniors at Lake Highlands High School in Dallas yesterday. They skipped English class, with permission, to go vote for the very first time. KERA's BJ Austin tagged along.
They can vote, but have a little difficulty lining up. The 18-year-old high school seniors, voter registration cards in hand, walked three blocks to an early voting location to cast their first votes for president. Lake Highlands Senior Principal Ramona Powers says the walk to early vote took shape after a League of Women Voters registration drive in the school cafeteria in September.
Powers: LaJarvis Williams, one of our football players, says what do I do now Ms. Powers? And I said, Well, you get your card in the mail, you look at your precinct, and then you go vote. And he had a deer in the headlights look. And I said, I tell you what LaJarvis, you and I can go vote early, and it turned into this.
Susan Oviatt, with the League of Women Voters, says there was something special about the students at Lake Highlands, one of many schools the League visited with voter registration applications.
Oviatt: Lake Highlands stood out in our mind. These kids were very diverse. They were so respectful. They were excited. I'm not sure whether they're more thrilled about getting out of school or voting. But they promised to vote forever. This is what we wanted. To start them off and have them always have a voice.
Sequoia Love, 18, walked by herself.
Love: I'm actually nervous, but it's exciting, though. It's exciting because it's such a big decision, you know.
John Claybrook says family tradition is driving his first presidential vote.
Claybrook: Well, to be honest, I think I would probably be expelled from my family if I didn't vote Republican.
Jordan Thomas and Kara King walked together to vote, but would go their separate ways at the ballot box: Jordan for McCain, Kara for Obama.
Thomas: I think he's a strong leader with plenty of experience, and Obama doesn't seem to have that experience.
King: Palin has like a couple of months as an Alaskan Governor. I don't think that's enough to qualify her to be a possible leader of the country.
H.J. Everett cast his first presidential vote for Eisenhower. He leaned on his cane in line behind the first-time voters.
Everett: They shouldn't be voting at 18. They don't know enough. Voting is a serious business.
But vote they did.
First-time voters: It was awesome. Hope my candidate wins. I voted for John McCain. I was kinda nervous. It wasn't that hard, touch screen, pick who you want, then hit vote. So, Barack Obama. You put your opinion in and you're not just a child anymore who gets pushed aside. I feel like being 18 is finally setting in. Like it's not just a number, but that I'm an adult now since I voted.
And then it was back to class.