UT System Chancellor Prepares To Adjust To Campus Carry Law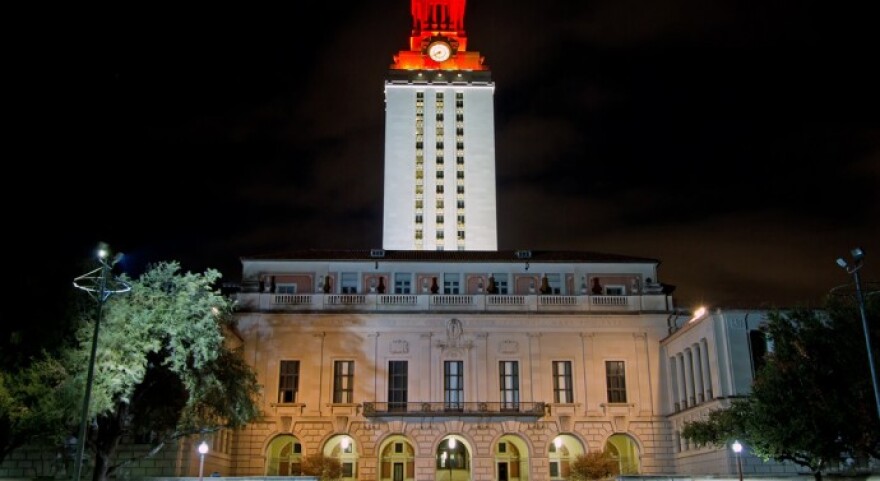 William McRaven took over as chancellor of the UT System at the beginning of 2015. Already he's had to navigate major changes in how the statewide system operates, and form new plans to accommodate the new campus carry law that goes into effect for the fall 2016 semester.
As "Think" broadcasts this week from Austin, Krys Boyd asked McRaven about how the 14 institutions he oversees will implement the gun law and work to encourage reporting of sexual assault on campus.
On campus carry:
Three shootings have devastated colleges this month, which isn't even half over. McRaven said he personally would not have supported the law allowing students who have concealed handgun licenses to carry guns on campus. A Navy SEAL for 37 years, McRaven said he understands both the need to adapt to the reality of the law's passing and to be vigilant in keeping campuses safe.
"One of the things I learned early on in the military is, you argue a point up until a decision is made," McRaven said.
"The fact of the matter is, we have to be careful about conflating the issue of campus carry with an active shooter. Clearly, you could have an active shooter case if you had a CHL-holder, but you could just as easily have an active shooter with somebody that just walks off the drag with a weapon in their hand. So we have to be prepared from a university standpoint to deal with active shooters, immaterial of whether or not the CHL law had passed."
On sexual assault:
A $1.7 million study the UT system is funding will help McRaven assess how effectively campus officials are working to prevent and report sexual assault, he said. One question will be whether students who report an attack on campus should be asked to also file a report with the city police department.
"Intuitively I would say, yes. You need to make sure that we have accurate and if necessary dual reporting so that the [city] police department can understand what their statistics look like and I can understand what our statistics look like. Again, we have the same problem in the military … the females … were concerned about the reporting, they were concerned about their job security they were concerned about the chain of command. They were concerned whether or not the assaulter would in fact be prosecuted. And I think we're going to find similar issues here on campus."
Listen to "Think" host Krys Boyd's full conversation with William McRaven and Texas Tribune reporter Morgan Smith. 
As "Think" continues its week of broadcasting from the studios of KUT in Austin, Krys Boyd will talk with the head of the Workers Defense Project at noon today. Listen to "Think" Monday through Thursday at noon and 9 p.m., or stream the show live.