More Than 'Immigrant Angst,' A Universal Pain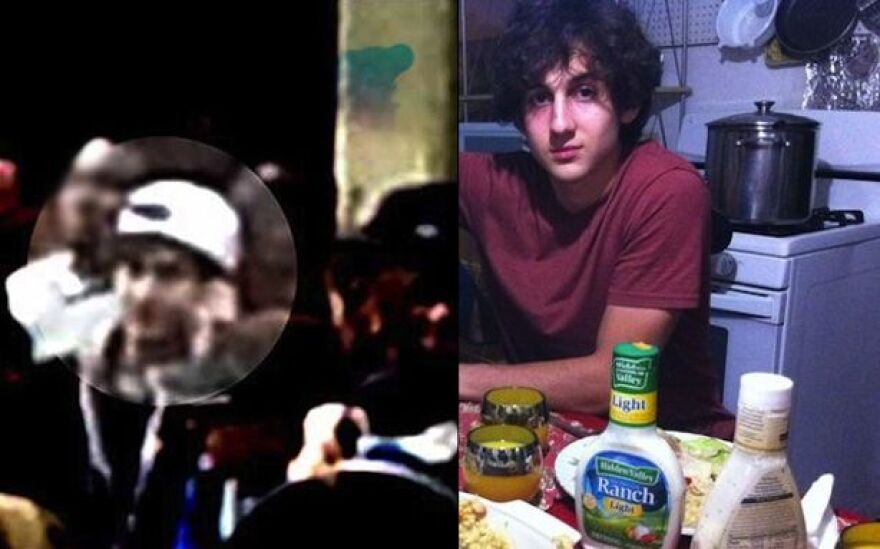 Five stories that have North Texas talking: Transcending racial tension with the founder of a Dallas web development company, North Texas parents form care package clubs to stick close to grads, Taya Kyle's speech at the NRA convention and more.
The pleading text messages sent to Dzhokhar "Jahar" Tsarnaev by his friend, a fellow Chechen, after the Boston bombing suspect's name was released are heartbreaking. Those and other quotes in a New York Times profile of Jahar and his immigrant family by Michael Wines and Ian Lovett echo the vulnerability in the halls of Columbine – in the halls of any high school or college campus.
Hassan Bawab was a student at SMU when the twin towers fell on Sept. 11, 2001. He's of Lebanese descent. Bawab told the AP's Martha Irvine the months after the attack were tense. "All of that put extra pressure on me. They think that you are THAT person," he said.
Bawab watched friends change their names amid all the racial profiling and skepticism. He didn't. Bawab went on to found a web development and marketing company in Dallas called Magic Logix and he's now a U.S. citizen.
It's perhaps a wider problem that would drive someone to do what Jahar is accused of, says Saeed Khan, who studies ethnic identity and Muslim culture as a lecturer at Wayne State University in Michigan. His words, to close the same story:
"We're missing a point of a broader social malaise," Khan says, noting that the suspects in the Colorado movie theater and Connecticut school shootings were not immigrants. "We're living in a time where alienation of youth is becoming an epidemic."
BOOMERS BOXING FOR GRADS: As sons and daughters prepare to walk the stage at college graduation ceremonies across North Texas this month, empty nesters be encouraged: The close-knit web of bleacher chat and post-Our Town performance dinners with fellow parents doesn't leave for Florida State with your firstborn. There's something called a "boxing club" that keeps Bishop Lynch moms meeting up to assemble care packages for their kids, who've been friends since preschool. Ringleaders Laurie Bret and Angela Schmidt gave Dallas News suggestions for throwing parties centered on the mailing ritual. (And keeping that zip code might not be so bad, according to a Bankrate list that ranks Texas 12th among Best Places to Retire.)
MGMT MATERIAL: A weekend of catching up on GIRLS will either leave one wincing with sympathy for the plight of millennials headed into the job market or just wincing in general, depending on who you are. But the raw and often embarrassing show by Time-stamped influential person Lena Dunham does not make clear: Young people were hit the hardest by the recession. Not emotionally, mind you. It's in the numbers. The NY Times' David Leonhardt points out in "The Idled Young Americans" that in just 12 years, the U.S. went from boasting the lion's share of employed 25-to-34 year-olds to having the lowest percentage of those workers in big economies. But they persist, Leonhardt says, still steadily reporting optimistic attitudes when polled.
LESS ABOUT ABORTION: The scramble to restore funding for women's health has seen an uncommon team sprit settle on the legislature. That's because abortion has not been central to the debate, reports Becca Aaronson of the Texas Tribune. Not one of the 24 abortion-related bills filed made it to the House or Senate floor. Instead, family planning with primary care providers as vessel has taken central focus.
KYLE'S WIDOW ADDRESSES NRA: As we mentioned, the NRA-ILA leadership forum was in Houston this weekend. Chris Kyle's widow Taya spoke about how the storied Navy sniper loved hunting and respected firearms: "He was taught only to kill what he needed for food." She broke into tears at one point, saying that she could also see the photos of Chris on the slides before audience members as she spoke. Chris took on his job in the Navy because he cared about people, Taya said, and used his gun, "the only effective tool he had," to "stop the evil coming at them." Taya also mentioned a book Kyle wrote and she finished that will be released in June called American Gun: A History Of The U.S. In 10 Firearms.