Apple: iPhone 5 Orders Topped 2 Million In 1 Day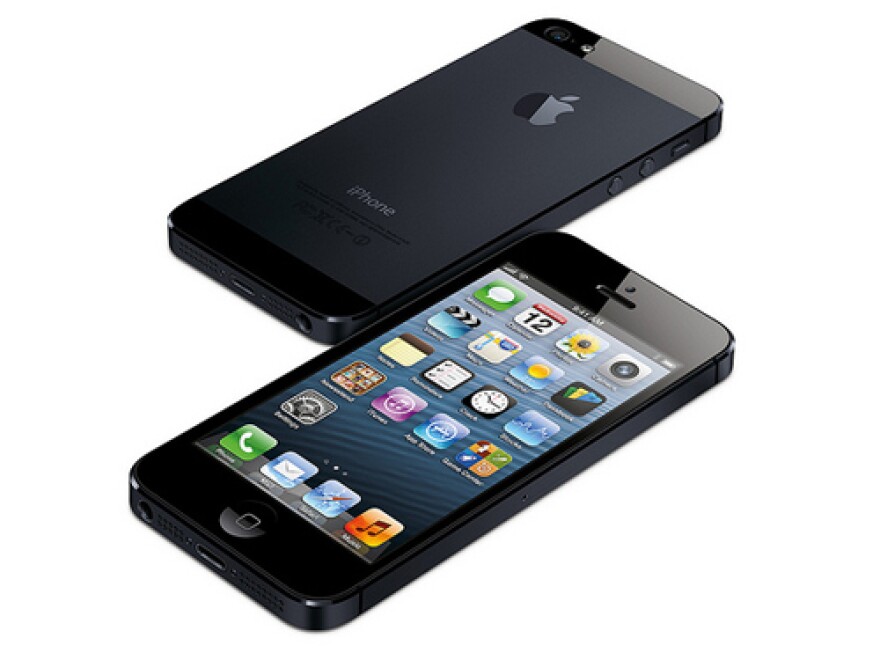 Orders for the iPhone 5 topped 2 million in the first 24 hours after Apple started taking them at 12 midnight Pacific time Friday. That's more than double the amount of iPhone 4S orders on its first full day.
Dallas-based AT&T Inc. said it set a sales record for the iPhone 5, with customers ordering more of them than any previous iPhone model on the first day of orders and over the weekend.
Apple says that while most preorders will be delivered on Friday, demand for the iPhone 5 exceeds the initial supply, so some of the devices are scheduled for delivery in October.
The iPhone 5 has a bigger screen - 4 inches (10.16 centimeters) measured diagonally - that allows room for another row of icons and lets widescreen movies fit better. The calendar will now show five days at a time instead of just three. Previous iPhone models carried 3.5-inch (8.89-centimeter) screens. The phone is also thinner and weighs less than previous models.
The iPhone 5 sells for $199 for the 16 gigabyte model, $299 for the 32 GB or $399 for the 64 GB model.
Apple says the iPhone 5 will be available at its 356 U.S. stores starting Friday. Each customer that makes a purchase at a store will be offered free personal setup service, which will help them customize their device.
The phone will be available in more than 22 countries on Sept. 28.
Aside from Apple stores, the iPhone 5 will be available at Apple's website as well as through AT&T, Sprint, Verizon Wireless, some Best Buy, RadioShack, Target and Walmart stores and certain Apple authorized resellers.
Apple shares rose $7 to above $698 in morning trading. They rose as high as $699.54 earlier in the session.
AP
DPD Arrest In Hit And Run Death Of 7 Year Old Girl
Dallas Police have arrested a 34 year old man in the hit and run death of a seven year old girl over the weekend.
Detectives identify him as Juan Francisco Salazar. He is charged with Failure to Stop and Render Aid, which is a 3rd degree felony.
Police say seven year old Devora Lopez was crossing Northwest Highway near Denton Drive with a family member when she was hit by two vehicles. One stopped at the scene. The other, allegedly driven by Salazar, did not.
BJ Austin, KERA News
2 Ohio soldiers killed in fire near Fort Hood
Authorities say two Fort Hood soldiers are among three people who died in a fire that destroyed an apartment complex near the Central Texas Army post.
Pfc. Seth Micheal Soulsby of Mogadore, Ohio, and Pvt. Christopher Micheal Sroka of Findlay, Ohio, died early Friday morning.
Killeen police spokeswoman Carroll Smith said Monday that investigators have not determined the fire's cause.
The 19 -year-old Soulsby entered the military in June 2011 as an infantryman. He was assigned to Troop G, 2nd Squadron, 3rd Cavalry Regiment at Fort Hood since December.
The 21-year-old Sroka entered the military in February as a wheeled vehicle mechanic. He was assigned to Company B, 115th Brigade Support Battalion, 1st Brigade Combat Team, 1st Cavalry Division at Fort Hood since August. Both had received military awards.
AP
Fort Worth may get new outdoor sculpture
Fort Worth may soon be getting an outdoor sculpture that has been temporarily on display at Chicago's Millennium Park.
"Tabachin Ribbon" - a yellow-painted carbon steel sculpture weighing up to 8,000 pounds - was produced by the Mexican artist Yvonne Domenge.
Martha Peters of the Arts Council of Fort Worth and Tarrant County tells the Fort Worth Star-Telegram the Millennium Park director offered the sculpture to Fort Worth after speaking at the city's 10th anniversary of the public art program last year.
The Fort Worth Arts Commission voted to pursue the donation.
Fort Worth has to pay the costs of transportation and installation, estimated at up to $60,000. The City Council in the next few weeks is expected to consider approving the expenditure from next year's public art budget.
AP
Government expands Hyundai Elantra air bag probe
U.S. safety regulators have added two model years to an investigation of an air bag problem with Hyundai Elantras that cut a car owner's ear in half.
The National Highway Traffic Safety Administration says it will look into 2011 and 2013 Elantras in addition to those from 2012. The agency also upgraded the probe to an engineering analysis, a step closer to a recall. No cars have been recalled.
The agency started investigating 123,000 2012 Elantras in May. But Monday it said only Korean-built Elantras have the part that caused the problem. About 75,000 were sold in the U.S.
In April, an Elantra owner told investigators a side air bag inflated in a crash and a metal bracket sliced the driver's ear.
Hyundai says the problem appears to be isolated.
AP
State Invests In Corsicana Jobs
Governor Rick Perry has announced the Texas Enterprise Fund will invest $930,000 in a Corsicana company. The money will help Pactiv expand its plant that makes polystyrene cups and containers. Pactiv is the world's largest producer of food service 'disposables' and food packaging.
Governor Perry says the plant expansion will create 200 jobs.
BJ Austin, KERA News
Bad News For Denton County Drivers
The Corinth Parkway Bridge over I-35 in Denton County is closed until further notice. A semi with an oversized load going northbound on I-35 struck the bridge and severely damaged a beam.
The bridge will be closed until repairs are made. They're expected to take four to six weeks.
BJ Austin, KERA News
No Tax Hike, But Fees Go Up After FW Budget Vote
Fort Worth City Council members vote on the 2013 budget Tuesday.
It does not raise taxes, but does raise water rates more than 3%. City officials say that translates to an additional $1.79 per month for the average customer.
Fees at city golf courses and swimming pools are going up. Gas well fees jump 20% to $600.
Budget cuts include the arts, alley and street maintenance, plus park mowing. The cuts and a dip into the city's reserve fund plugged a $49 million budget gap.
BJ Austin, KERA News