Dallas Police Use 'Cite And Release' In Fraction Of Marijuana Possession Cases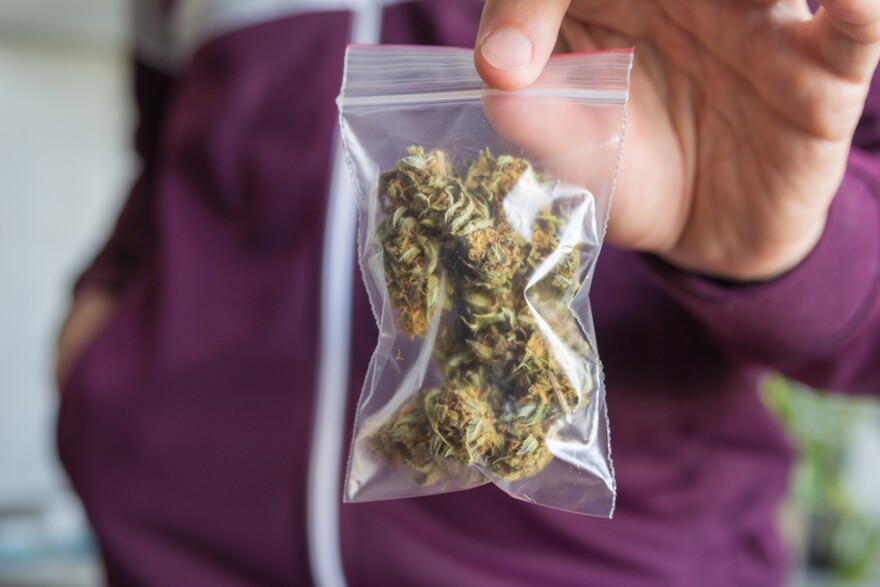 Dallas police officers have applied "cite and release" in just 65 out of more than 1,500 marijuana-related cases, according to data presented Monday at a City Council public safety meeting.
Under the program, anyone stopped with under 4 ounces of marijuana can be released with a citation to show up in court at a later date — instead of spending the night in jail.
As KERA has reported, to be eligible, the person has to be a resident of Dallas County portion of the city with no other convictions or outstanding warrants and have a valid Texas state ID or driver's license. The offense also can't take place in drug-free zones, like schools.
The data presented Monday reflected cite and release cases filed between Dec. 1, 2017 (when the policy took effect) and the end of June. Only 6 percent of marijuana possession cases from that period were eligible for the cite and release program.
The Dallas Police Department said "cite and release" for marijuana possession has freed up officers' time and resources to fight violent crime since the program was implemented.
But the program needs time to have greater impact across the department, officials said.
Concerns over racial disparity
Of the 65 citations during that period, 35 were issued to black residents (54 percent), 25 to Latino residents (35 percent) and 5 to white residents (8 percent).
Of the 1,544 marijuana possession cases in that same time, 65 percent were black, 26 percent were Latino and 9 percent were white.
The majority of the cases were filed in the Dallas police divisions that cover the southern parts of the city.
During Monday's meeting, Dallas City Council member Philip Kingston raised concerns about the racial disparity in the data.
"It still appears to be the case that marijuana is legal in Dallas County if you're white, but not if you're Latino or black," Kingston said.
Kingston also said while the policy saves officers time by not arresting low-level marijuana offenders, "we're still wasting a lot of police time on something that's simply not a public safety issue," he said.
Chief U. Reneé Hall said the department shares the concern about the disparity in the cases. But, she said, many of the calls for service came from the community.
According to the data, 29 percent of citations were made after a 911 call, 23 percent were made stopping a pedestrian and 48 percent were made at a traffic stop.
Hall said she's heard citizens who've described it as a quality-of-life issue, saying, for instance, they can't take their children to the park or play outside because of people smoking marijuana.
"Although there [are] some concerns here as a police department, we are doing everything we can to ensure that we are not overlooking this," Hall said. "But the one thing we cannot overlook is illegal activity."
Hall said most of the individuals cited had been involved in other criminal activity, such as distribution of marijuana and other illegal drugs.
According to the data, 19 cite and release cases involved additional evidence, like small bags or scales, that indicated "possible" distribution of marijuana. And 20 suspects had prior arrests for possession of marijuana.
Hall said the department's working to resolve the racial disparity by engaging with the community, but she said "the option to look the other way is not one that we have."
More: Watch Monday's public safety meeting in its entirety. (The cite and release discussion begins at the 54-minute mark.)
Background on cite and release
The goals of the policy, which was approved by City Council in April 2017 and implemented the following December, were to reduce jail population for non-violent offenders, reduce time officers spent on jail processing procedures and improve response times by getting officers back into service more quickly.
The policy is not a decriminalization of marijuana. The officer still conducts an investigation, gets information and fingerprints and gives instructions about where and when to appear in court.