He's 91. She's 84. A Husband And Wife Lose Their Home In Copeville Tornado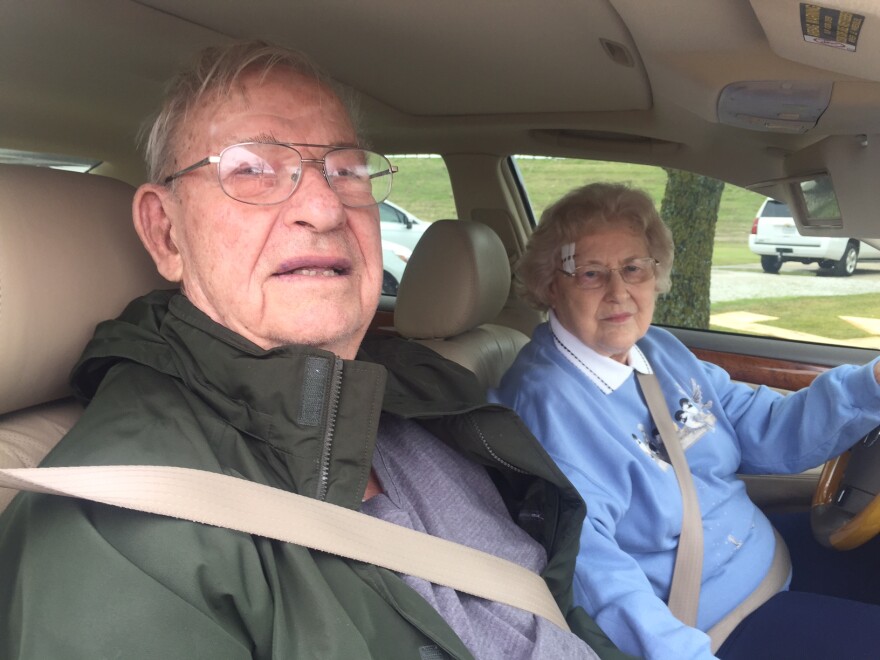 In rural Collin County, three people died during Saturday's tornado outbreak. Part of the destruction happened in Copeville, east of Lavon Lake. A husband and wife reflect on their dramatic evening.
Joyce and Walker Mills have lived in their brick home in Copeville for nearly 30 years. They said they've never experienced anything quite like Saturday's tornado.
"I was sitting in the den and Walker had just gone to his bedroom to lay down to rest awhile," Joyce said. "I was watching the weather and I had heard that it was gonna be bad here, but I was just sitting in the lounge chair in the den and all of sudden, I mean it just ..."
"I think it knocked me from out of the bed," Walker said.
Joyce is 84; Walker is 91. They've been married 26 years. Doctors recently implanted a pacemaker in Walker. And he's still recovering from hip surgery -- he uses a walker to get around.
They only suffered a few scratches from the tornado. Their home in Copeville was totaled.
"Oh it sounded like a whole big gush of wind," Joyce said.
"And roaring," Walker said.
"Just roaring, Yes." she said. "Wind just roaring."
There was no time to react and no tornado siren. It happened quickly – 15, 20 seconds, maybe.
"Glass started flying. The lights went out, it was dark," Joyce said. "It was the most frightening thing I've been through and I'm 84 years old … I mean I just put my hands over my face and started praying."
Walker and Joyce were found by his son, Gary, and three Collin County deputies. He was still in bed.
Gary Mills and his wife, Colleen, live next door to his dad. Their house was damaged, too – windows were blown out and part of the roof is missing.
Since the storm, the elder Mills' roof has caved in, making it unsafe to stay there. So for now, the couple is staying with Joyce's twin sister in the nearby town of Lavon.