Close Tarrant County Senate Race May Come Down To Taxes, Trump And Suburban Women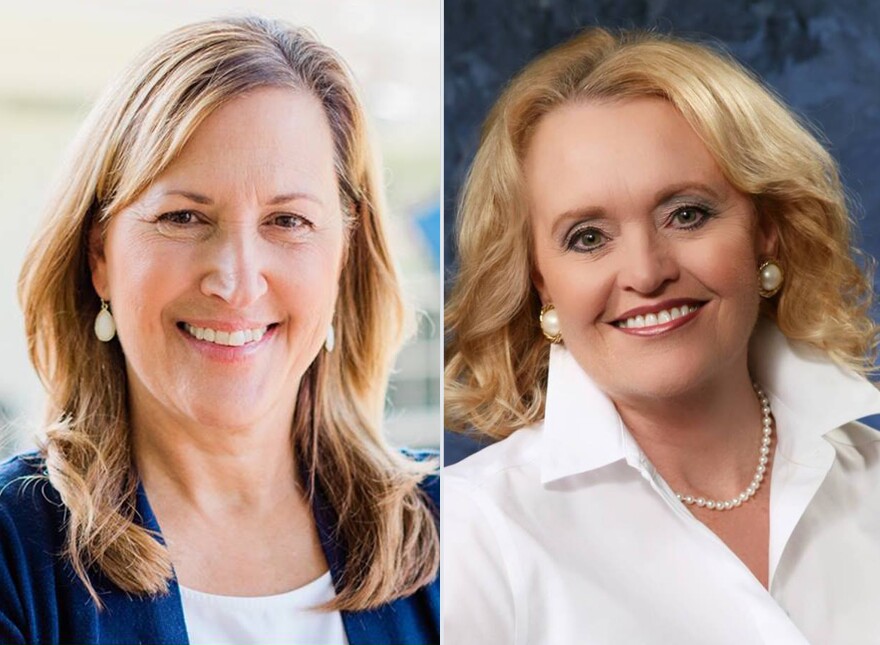 The closest state Senate race in Texas may be in Tarrant County's District 10, where Democrat Beverly Powell is running to try to unseat Republican state Sen. Konni Burton.
Democrats hope to chip away at Republican control in Austin and reclaim a seat once held by Wendy Davis. Republicans want to keep one of Lt. Gov. Dan Patrick's most loyal lieutenants and tea party activists in Austin.
Divided on education
On a recent Saturday at the Nuevo Leon restaurant on Fort Worth's North Side, members of LULAC, the League of United Latin American Citizens, gathered to hear from local Democratic candidates. On one side of the room, Fernando Florez cornered Powell, wanting to know what she'd do to improve education for kids in this neighborhood.
"They need to understand if we don't educate these Mexicans, these Hispanics, we're going to pay the price," Florez said. "The whole state."
Powell, 67, a real estate developer and former Burleson school board member, responded, saying the reality in Texas "is there is a real movement toward vouchers, which takes public money out of public schools."
Powell says her top priority is putting more money in public schools and making sure tax dollars don't pay for private education.
"If it's public dollars, those monies belong in public schools where we give every child the same opportunity," she said.
Twenty minutes away in a converted office suite, Sara White and other volunteers addressed mountains of campaign envelopes for Burton.
Burton, a 55-year-old tea party activist, helped organize Ted Cruz's first Senate campaign. During last year's legislative session, she voted for voucher legislation that would have allowed public money to be used for private schooling.
"If a parent or a family says that this particular school in the school district in which I live isn't the best for my child, I think I would much rather them go to this charter school or I'd much rather homeschool — whatever that is, that's the decision they should make," Burton said.
So what's wrong with that?
Powell says the amount of money provided in vouchers "won't cover the cost of tuition, let alone the cost of lunches or transportation to and from school."
While Powell warns that Texas ranks 40th among states in per pupil spending, and students risk falling behind, Burton says she's waiting on a legislative study before she weighs in on more money for schools.
"I don't want to sit here and say, 'We do need more money, we don't need more money,'" Burton said. "What we at the state level are trying to do is make sure the dollars are going to the classroom ... and make sure that it's not going to larger administrations."
"The name is not on the ballot, but Donald Trump is really the issue in this year's election."
The candidates' debate over school funding is linked to another thorny battle and Burton's priority — giving homeowners relief from spiraling property taxes.
Powell says the only way to do that is for the state to pay more for public schools, so local property owners don't have to make up the difference.
"What's happened is that the state of Texas has paid less and less and less of their portion of per-student funding over the past 20 years," Powell said. "What that's caused is that our local school districts have to bear that burden."
Burton rejects that thinking and supports Gov. Greg Abbott's tax reduction plan. It calls for limiting the increase in property tax money a school district can collect without getting voter approval.
"We are trying to make it an automatic process, where they can vote and they can decide whether they want to have their property taxes increased," Burton said.
Trump factors in
When you get right down to it, Burton and Powell disagree on almost every big policy issue.
But winning may come down to something — or someone — else, says Jim Riddlesperger, a political science professor at Texas Christian University.
"The name is not on the ballot, but Donald Trump is really the issue in this year's election," he said.
Riddlesperger says winning Senate District 10 may depend on how suburban women in communities, like Colleyville, Bedford and Southlake, feel about a Republican Party led by President Trump.
"They have traditionally voted Republican, but they react negatively to Donald Trump," Riddlesperger said. "They react negatively to the misogyny that has begun to dominate the Republican Party and they have moved in the last two years decidedly toward the Democrats."
If Riddlesperger is right, Trump's polarizing presence may have more to do with who wins Senate District 10 than with what the candidates have to say about public education and taxes.