Photo Essay: Dallas Activists Protest Charges In Breonna Taylor Case & The City Budget
As the city council voted on the budget Wednesday night, protesters rallied in front of the Dallas City Hall and police headquarters following the news of the indictment of an officer in Breonna Taylor's case.
A Kentucky grand jury indicted one of the three Louisville Metro Police Department officers involved in the shooting that killed Breonna Taylor in March. The news sparked a peaceful demonstration in downtown Dallas Wednesday night, as the city council was voting to finalize the $3.8 billion budget for the upcoming fiscal year.
For months, many Dallas activists have been calling for city leaders to defund police in the upcoming budget.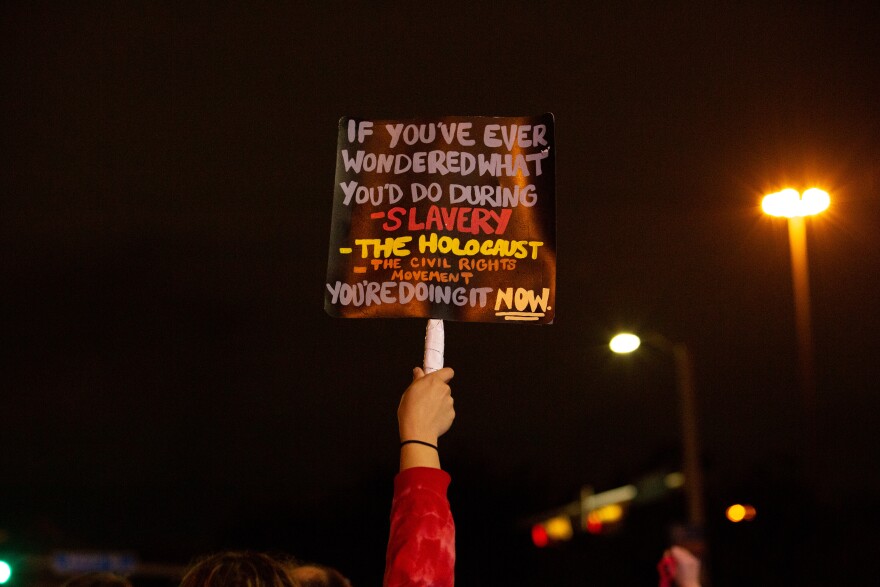 Despite calls to slash $200 million from the police and divert that money to social and community services, the department's $500 million budget will remain mostly intact.
The announcement in the Breonna Taylor case sparked protests in Louisville and around the country Wednesday night.
Two Louisville Metropolitan Police officers were shot as protesters marched in the city. Both were hospitalized but Louisville Chief Robert Schroeder said they were both "non-threatening injuries."
The final Dallas city budget did feature a few changes to police funding, though much less significant than what activists had requested.
The budget allocates funding for the expansion of the RIGHT Care program that pairs police, EMS and mental health professionals together to handle mental health emergencies.
Council also put money toward expanding the Office of Community Police Oversight, programs to reduce implicit bias and training in de-escalation and less-lethal tactics.
The city also expanded funding for 3,000 additional mobile internet hotspots in hopes of increasing access among the more than 40% of Dallas households that don't have internet service.
Keren Carrión is a corps member with Report For America, a national service program that places journalists into local newsrooms. Got a tip? Email Keren at Kcarrion@kera.org. You can follow Keren on Twitter @kerencarrion8.
KERA News is made possible through the generosity of our members. If you find this reporting valuable, consider making a tax-deductible gift today. Thank you.