Battlefield Breakthroughs: Military Research Keeps Dentist Dream Alive For N TX Amputee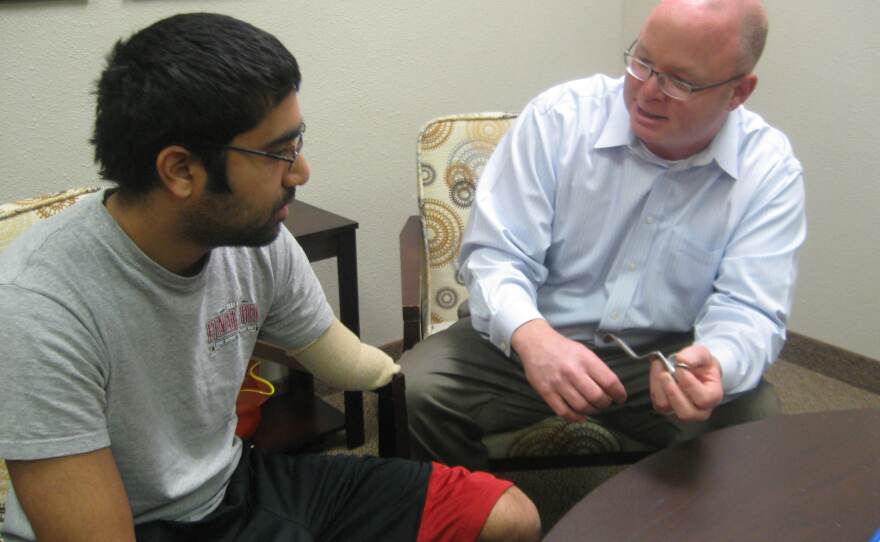 Chris Lake (r) shows Amar Patel an adapted dental tool designed to work with Patel's prosthetic hand.
BJ Austin / KERA News
Amar Patel slips on his high-tech arm with the use of a special sleeve.
BJ Austin / KERA News
Amar Patel hopes to graduate dental school in 2015.
BJ Austin / KERA News
The number of wounded amputees from the wars in Iraq and Afghanistan prompted the Pentagon to do the first sweeping overhaul of prosthetics since the 1940's. And, it's not only wounded veterans who are benefiting. A "Battlefield Breakthrough" is making it possible for one young North Texan to conquer dental school with a state-of-the-art prosthetic arm.
24 year old Amar Patel arrivee at Lake Prosthetics in Euless carrying his hi-tech left arm in what looks like a gym bag. It was spring break and he was spending the day with Chris Lake, an upper limb prosthetic specialist.
"In addition to some of the things we're going to do to adjust your prosthesis, this is the first generation of that dental tool with the mirror," Lake said as he greeted Patel.
Amar Patel is studying to be a dentist at UT Health Science Center in San Antonio, and learning to handle the tools with a prosthetic left arm. Last May, after final exams, Patel was driving home to Dallas. Just south of Temple, he fell asleep.
"And my car flipped on my side and started skidding on the asphalt. The window broke and I tried to brace myself and my arm hit the asphalt while skidding, and it just ripped off, basically, " Patel said in a calm, understated way.
Patel's arm, severed above the elbow, was reattached but things did not go well. Six days later, it was removed. Patel admits it's an uphill battle, learning to operate his arm with its state-of-the-art hand and master dentistry. But, so far, there are only a few intricate things he can't do.
"As far as the dentistry stuff, like injections, cutting crowns, that's more right hand based to begin with, dominant hand based," Patel explained. "The left hand is more supportive so as long as I can get the mirror in the mouth and be able to see what I'm doing, check retraction and stuff like that, it's very possible to continue I think."
In 2006, the Pentagon launched a $100 million prosthetic arm project. Its goal was to spark new technology that would give an arm more natural movement and increased capabilities. Chris Lake says the key development from the military research is the multi-articulated hand. It has joints that bend and move. Lake says until about five years ago, hands had one basic movement. The index and middle fingers came together with the thumb to make a pinch to pick up or hold something. The multi-articulated hand can close around an object, grasping it. He and Patel chose the Michaelangelo hand, which hit the market last year.
"This particular hand, unlike the other prosthetic hands, has a powered thumb that's able to rotate in and out of position and able to generate a fair amount of grip force," Lake said with a certain excitement and admiration. "All the research that has gone in has really catalyzed the current prosthetic manufacturers to refine their products because they put their products on the returning military. They gave their feedback and all these products became much, much better. As a direct result, when we first started working with Amar, we were able to give him three different options of multi-articulated hands that would work for dentistry."
Lake says if it weren't for that military-funded research Patel would not be back in dental school.
Amar Patel slips his left arm into the prosthesis with the help of a special sleeve that protects it as it slides into the socket. He then inflates air bladders to secure the arm. Surface electrodes in the socket sense specific muscle contractions in his limb and communicate with sophisticated electronics to make the specific movement.
An arm with a Michaelangleo hand costs around $100,000. Lake says most insurance plans pay for it.
Patel is eager to see what comes next.
"Every year something new is going to come out," Patel said. "It's just going to upgrade the hand, the elbow. In time maybe it'll end up like that robot hand where it's fully functional doing everything you want it to do."
That thought-controlled robot hand – a prosthetic arm interfaced with the brain and nerves – is being tested on a small group of patients. But, it remains too expensive to produce commercially. Researchers are working on that, too. They're looking at the possibility of non-profits or philanthropic groups paying for production. That would take "profit" out of the equation and get the new technology to the public more quickly.