More Cops, WiFi Outside & A Plan To Curb Homelessness: It's All Part Of The Dallas City Budget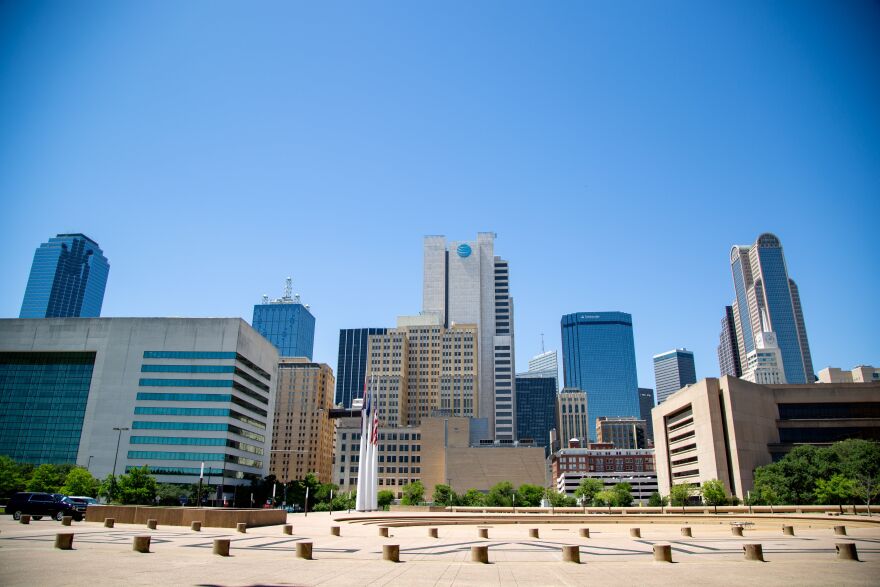 The budget is one of the most important documents prepared by the city because it identifies where citizen tax dollars and other revenues are being spent.
The City of Dallas' proposed $4.35 billion city budget details how the city manager recommends taxpayer dollars and federal funds should be spent for the 2021-2022 fiscal year.
"In many ways, I do believe that this is one of the most impactful budgets that I've recommended to the Dallas City Council," City Manager T.C. Broadnax said when announcing his proposal.
This year's proposed budget integrates more than $355 million in federal money from the American Rescue Plan Act. The city manager says his priorities are providing Dallas residents with "basic city services such as emergency response, clean water, trash pickup, road repair, libraries and parks."
To help breakdown the lengthy and complex document KERA has outlined key highlights:
Public Safety
In this year's proposed city budget Broadnax is calling for a $53 million increase in general fund money for the police department. This would increase the department's budget toover$567 million. Within that increase there's $8.5 million of the American Rescue Plan money Broadnax wants to use to increase the police overtime budget.
In Dallas, the police department receives the biggest chunk of the budget. Last year, the department's budget was a big topic of discussion following protests over the death of Black men and women at the hands of police. Activists called for a slash of $200 million from the police budget to be distributed to other city services. But the city council decided to reducethe police overtimebudgetby$7 million and reallocate that to other department expenses and services.
In May, Gov. Greg Abbott signed into law House Bill 1900, which financially punishes large cities like Dallas if they decid to reduce their police budget. Cities that cut funding could lead to the city being banned from raising property taxes or collecting new property tax revenue, raising public utility rates or annexing land. The new law goes into effect Sept. 1.
The proposed public safety budget includes:

Hiring 250 additional police officers.
Buying 30 new police cars so more officers can ride solo.
$14 million increase in the police overtime budget.
$2 million for the RIGHT Care Team, which responds to mental health-related calls. This would be used to double the number of teams from 5 to 10.
$2 million to staff the mobile crisis responders team of 23.
$3.2 million to improve street lighting and address abandoned properties.
$300,000 toViolenceInterrupters to continue the program
Hire 42 people for the transportation department.
$1.2 million for hiring 62 additional people for the 911 Call Center. This includes 44 call takers and 12 dispatchers to make up for staff shortages and delays in answering the phone.
Raising pay for 911 call takers from $33,400 to $43,800.
Government Performance & Financial Management
A 0.3-cent property tax rate reduction, per $100 of a property's assessed value, which would bring the rate to 77.33 cents per $100 of assessed value.
If the plan is adopted, residents will see a $3.78 increase in sanitation service fees to fund fixes to long delays in collection services and for higher pay for truck drivers.
Housing & Homelessness Solutions
$25 million toward anew countywide housing plan that would house more than 2,600 people experiencing homelessness.
$10 million worth of water and sewer infrastructure to encourage more housing construction.
$100 million in rental assistance to stabilize housing for residents affected by the COVID-19 pandemic.
Environment & Sustainability
$1 million worth of additional Air Quality Monitors.
$200,000 to improve access to healthy, local food.
Provide 2,500 native trees to residents across Dallas.
Transportation, Streets & Infrastructure
$150 million to repave hundreds of miles of streets, part of $300 million over the next two years to improve street conditions on nearly 1,700 lane miles.
$30 million to implement the Sidewalk Master Plan over the next two years.
$5 million to improve visibility and safety on city streets by marking and painting 830 crosswalks.
$200,000 for a pilot program aimed at decreasing street racing by putting barriers in major intersections.
Replace 1,000 outdated school-zone flashing beacons.
Economic Development
Establish a small-business center with a focus on diversity that includes women- and minority-owned business programs and help for people re-entering the workforce after being incarcerated.
$7 million over three years to pay formation costs and hire staff to implement and execute Economic Development Policy.
Workforce, Education & Equity
Hire four additional Spanish speaking agents in 311.
Hire a city staffer that would coordinate the translation of public information for non-English speakers.
$40 million in internet infrastructure to bridge the digital divide in Dallas' underserved communities
Raising the minimum wage for City employees to $15.50 per hour and adding a six-week parental leave benefit. Their current salary is $14 per hour.
Quality of Life, Arts & Culture
$3 million to add Wi-Fi in 63 park facilities.
Clean 1,362 unimproved alleys spanning 129 miles.
Launch a pilot trail program transforming 40 alleys into safe, well-lit trails.
Hiring 31 more code enforcement officers.
Increase funding for Dallas cultural facilities like Juanita Craft House, the Bath House Cultural Center, and the Latino Cultural Center.
We Want To Hear From You
If you would like to give city leaders your input on the proposed city budget, council members are hosting virtual, in-person and telephone town hall meetings until Aug. 26.
The City Council will discuss the proposal the rest of the month of August and will adopt a final spending plan on Sept. 22. The next fiscal year begins Oct. 1.
Want to weigh in? KERA wants to hear from you.
Got a tip? Alejandra Martinez is a Report For America corps member and writes about the impact of COVID-19 on underserved communities for KERA News. Email Alejandra at amartinez@kera.org. You can follow Alejandra on Twitter @alereports.
KERA News is made possible through the generosity of our members. If you find this reporting valuable, consider making a tax-deductible gifttoday. Thank you.