Kaufman County Prosecutor Gunned Down Near Courthouse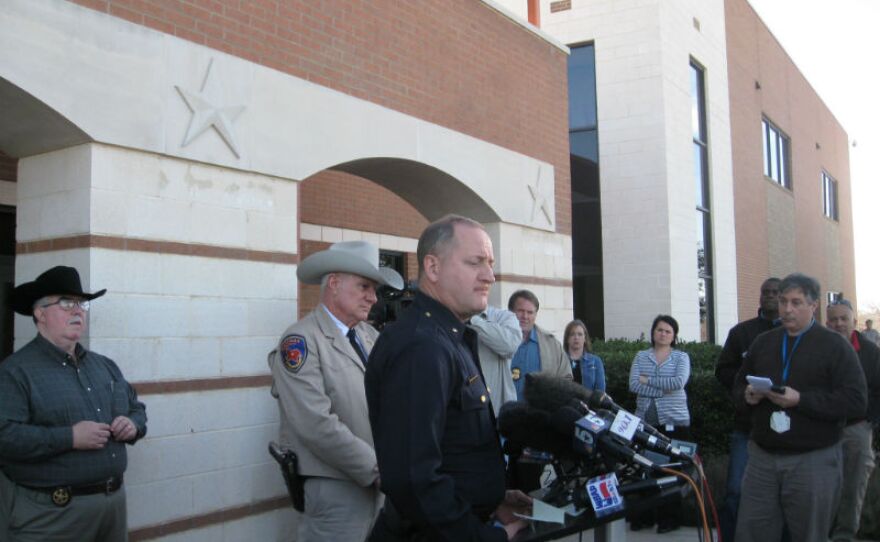 Police say there's an armed, uniformed officer this morning guarding the Kaufman County Courthouse parking lot. That's because Assistant District Attorney Mark Hasse was gunned down there yesterday morning. The investigation and manhunt continues.
Kaufman County District Attorney Mike McLelland says 57 year-old prosecutor Mark Hasse was a tiger in court, a spectacular prosecutor, and excellent friend who will be sorely missed.
"He had an absolute passion for putting away bad guys and enjoyed nothing better."
At a Thursday press conference, McLelland also said his friend was a nice guy and a great storyteller. People liked him. That's why officials suspect Hasse was targeted. They're investigating his prosecution files. Maybe revenge was a motive. Police say witnesses saw Hasse get out of his car at work when he was approached by a man dressed in black, perhaps more than one man. There was an exchange of words, the man fired at least five shots, then left in a car, maybe a Ford Taurus. McLelland says his office cannot wait to prosecute the "scum."
"I hope that the people that did this are watching, because we're very confident that we're going to find you. We're going to pull you out of whatever hole you're in. We're going to bring you back and let the people of Kaufman County prosecute you to the fullest extent of the law."
Several Kaufman law enforcement officials, including Sheriff David Byrnes, could not recall anything like this happening here before.
"I've been doing this 43 years and I never experienced this. It's beyond the realm. It's not something you deal with, especially in this part of the country."
That reaction was echoed by others who work in the otherwise tranquil Kaufman town square, less than a block from the crime scene. Kathy Spurlock owns a quilt shop across from the court house where Hasse was headed Thursday morning.
"I was in total shock. I couldn't believe something like that happened here. It's a very quiet community."
D.A. McLelland doesn't like the change this crime may bring. He and his now dozen prosecutors will park in the same lot this morning that Hasse parked in yesterday. They'll take the same walk Hasse took every day. But McLelland says, today, it'll be different. Humbling.
"And, very unhappy. But we'll still make the walk and we'll still show up, and we'll still send bad guys out of Kaufman County every chance we get. We're not stopping, we're not slowing down, we're still doing our job."
And he'll get help from Kaufman and other police departments, the DPS, Texas Rangers, the ATF and FBI. There is also a reward that's grown to at least $36,000 for information leading to an indictment and conviction in this case.