Kids Need Consistency After A Tornado, Say Garland School District Officials
It's been a little more than a month since tornadoes wrecked some North Texas neighborhoods. In the Garland Independent School District, officials have been busy helping students and their families get through the recovery process.
Garland superintendent Bob Morrison was in sixth grade when a tornado ripped apart his elementary school in Moore, Oklahoma. The storm hit in the evening, so he and other children weren't hurt. He remembers attending classes in portable buildings after that.
As an adult in 1999, he watched through a window as a half-mile wide EF-5 tornado barreled through Moore. He had stopped by his parent's house and later determined the storm had missed his house by half a mile.
The devastation hit close to his heart. At the time, he was working in a neighboring school district, but had spent the previous 5 or 6 six years working in Moore. And his children were enrolled in Moore schools.
It's those experiences, he said, that helped him respond to the EF-4 storm that hit North Texas the night after Christmas. More than 1,000 students were displaced.
"I saw it from a parent's perspective. I saw the impact it had on their friends, their homes that were destroyed," Morrison said. "People don't realize it's not something that goes away in a couple of weeks. The news cycle goes away in a couple of weeks.
Morrison said it can take people more than a year to get back on their feet.
"Even with the best insurance possible, you're six months away, and that's best case scenario," he said.
Morrison was in Oklahoma on Dec. 26. He watched weather updates on TV and got calls from his staff soon after it struck.
The district serves families who live in Garland, Rowlett and Sachse. More than 200 students whose homes were destroyed are now living outside of the district's boundaries. Still, school vehicles are picking them up and taking them home.
"And somebody says, so why don't they just go to school in the district they live in now? Well, the reason you don't do that is these students have been through a lot of emotional distress," Morrison said. "One thing that they need is that consistency. Their friends provide that consistency. Their teachers provide that consistency. They know them."
That routine is important, Morrison said, because a student's friend or teacher can detect any change in the child's behavior.
Marian Riner, the district's homeless liaison, said she meets families affected by the tornado every day. The first thing many of them say is that they're gonna be okay. Many though are worried.
"A lot of what we hear from families is just uncertainty. They don't know what the next step is gonna be," Riner said. "They don't know how long things are going to take to resolve with their insurance, and so I think it's just a fear of the unknown."
Riner's workload has increased and it's a little different. Now, whenever she meets a new family, she asks whether they were affected by the tornado.
Outside First Christian Church in Rowlett, 11-year-old ErlinMajano is carrying a white bag filled with goodies – a remote control toy car, books, a candy cane and a toothbrush.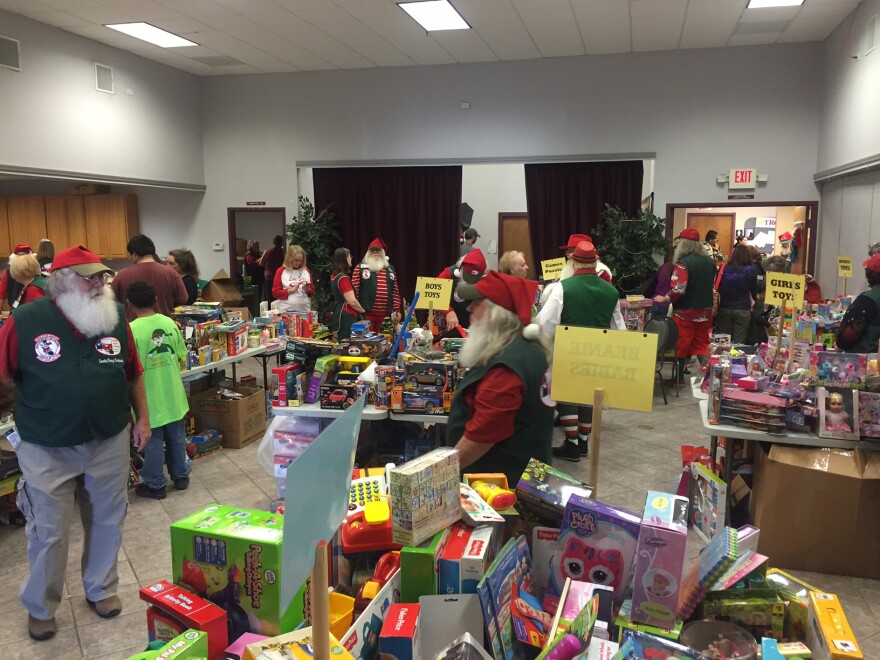 The nonprofit group Lone StarSantasDisaster Relief for Children organized the event and, with the help of the district, notified all of the families whose homes were damaged or destroyed. Besides toys, the group also handed out lunch and gift cards.
Erlin and his family lost almost everything.
"I was sad. But like my dad said, it's something that we can't stop, but it's something that we can fix," Erlin said. "It's not like the world's going to end right there."
Doug Portwood, director of Lone Star Santas' Convoy of Toys, said seeing kids smile helps their parents get through this process, too.
"Those tornadoes hit the day after Christmas and their joy stopped immediately," Portwood said. "We're giving every child a stuffed animal and that's important for each child to have something to be able to hug and hold onto when they need that kind of comfort."
Yasmin Somnath, a student assistance counselor at Rowlett High School, has spent a lot of time talking to students individually and in groups since the storm.
Some are having nightmares and others are dealing with the loss of their childhood homes. Most, she said, seem to be coping.
"I think the saving grace is that because families are together, they're more thankful," Somnath said. "However we haven't really had any other big storms yet."
To prepare for that and what comes after, she said the district is planning to add afterschool counseling for students and their families.