Class of '17: Halfway Through Ninth Grade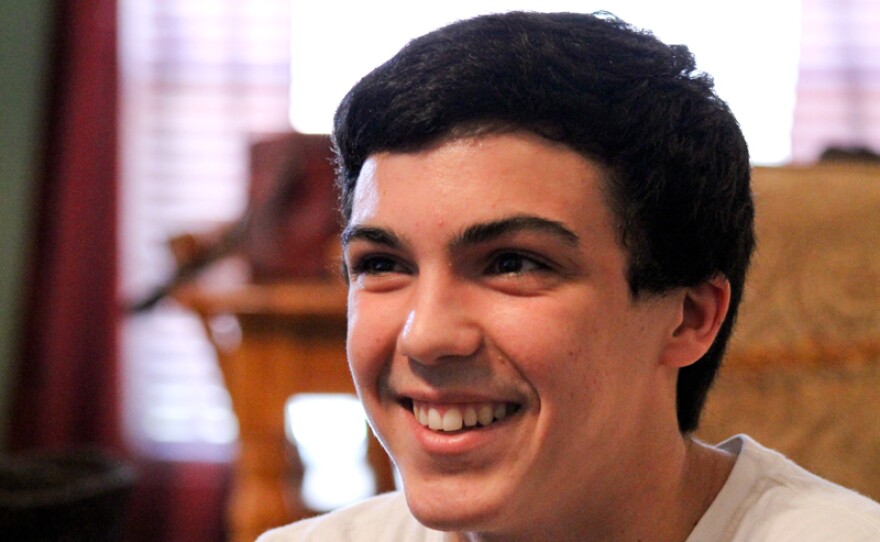 Ricky Rijos, Jr.
KERA News
Phantasia Chavers
Willow Blythe / KERA News
Alex Gutierrez
Stella M. Chavez / KERA News
Chance Hawkins
Stella M. Chavez / KERA News
Earlier this year, we introduced you to a diverse group of students making the transition from middle school to ninth grade. The series, called Class of 17, is part of a nationwide public broadcasting initiative called American Graduate.
So far, we've met a student battling a life-threatening disease, one struggling with math and others who've had to move around. You'll hear more from these students and meet new kids in the coming months through graduation — or whatever comes next.
Here is our Class of 17:
Kelly Bowdy, 14
Kelly's biggest influence is her grandmother, the one who pushes her harder than anyone else in her family. The 74-year-old consistently tells Kelly to do well in school, so she can graduate and go to college.
When we last caught up with Kelly, she was starting the year at O.D. Wyatt High School. She was on the varsity volleyball team and also playing basketball.
Phantasia Chavers, 14
Phantasia had her heart set on making the volleyball team but didn't make the cut at tryouts. She didn't let that deter her from playing sports. She became a trainer f or the JV football team at the Cedar Hill Ninth Grade Center and is now on the girls' basketball team.
She also does well in school and enjoys her pre-AP English class. But like many kids her age, she was the victim of bullying by another student on the bus. The incident caused her a lot pain and embarrassment that she refused to go to school for a week. Her mom reports Phantasia's doing better now and going to therapy.
Alex Gutierrez, 14
Before moving on to the ninth grade, Alex had to get some tutoring lessons in math at Holy Trinity Catholic School. She didn't have the grades in math to stay at the private school, and her parents didn't want to her to attend the public school near her home. With the help of Alex's older sister, who has kids of her own, they enrolled her in a new charter school in Garland.
Alex says she's happy in her new school, International Leadership of Texas, even though she still has trouble in math and has to go to tutoring. She especially likes the school's requirement that every student learn three languages – English, Spanish and Chinese.
Jerry Harris, 14
Not many kids Jerry's age write up and sign their own contracts. For Jerry, it's a promise to himself that he begin his mornings at 5:30 a.m. and get to "work." He did all this while attending school in the suburban city of Coppell. He has since moved to Ardmore, Oklahoma to live with his dad and says life there is more "laid back."
"It is good, I'm loving it," he said by phone. "Everything's really kind of calmed down. Not everything's a big rush."
Jerry also says he's not as "on time with things" like homework. These days, he's busy with after school activities like basketball, so he doesn't do homework until later in the evening. The school he attends is smaller and says he likes that environment better. He hasn't noticed seniors picking on freshmen.
Chance Hawkins, 15
Chance has Duchenne muscular dystrophy, and so does his younger brother. Both boys are in a wheelchair and require a lot of assistance and therapy. The family face daily challenges like getting the boys ready for school and transferring them to the car.
Chance started the school year at a private Catholic high school in Fort Worth. His parents liked the small, classroom setting and one-on-one attention. But after a few weeks, they moved him back to a public school, Dunbar High, because the private school couldn't accommodate all of his physical needs.
Despite all of the challenges he faces, Chance maintains a positive outlook. He says he likes his new school because some of his siblings and cousins are there.
Ricky Rijos, 14
Ricky loves basketball. He spends all of his free time playing the sport and reading as much as he can about it. The Flower Mound High student is not tall, but he still made the school's freshmen "A" basketball team and also belongs to a traveling club team.
Doing well in school is also a priority for Ricky. Taped to his closet door is a list of goals that include not only his plans to play better but also his desire to make the honor roll. And, no detention.