Across Texas, Bitcoin Fans Join The Online Currency Frenzy
Bitcoin made headlines last fall when users of the black market website Silk Road made illegal purchases with the online currency. Ross Ulbricht, the University of Texas at Dallas graduate who created the site, was arrested.
Many thought that was the end of Bitcoin. But now it's had a resurgence with a global community growing online.
In May, Dish Network became one of the largest companies to date to accept Bitcoin. It joins online businesses such as Overstock.com and Tiger Direct that allow customers to use the virtual cash in exchange for products. Even Snoop Dogg expressed interest in taking it for one of his records. (Melanie Brown, one of the Spice Girls, is accepting Bitcoin.) Investors are flocking to the digital currency.
Bitcoin is picking up steam in North Texas as business owners are joining the coin craze. And so are politicians: Outgoing U.S. Rep. Steve Stockman of Houston accepted Bitcoin to fund his failed primary challenge of U.S. Sen. John Cornyn earlier this year.
Will Fayer organizes a Dallas meet-up group where eager Bitcoin enthusiasts gather every Saturday at Central Market.
They use high-tech words and phrases like e-wallet, data mining, and cold storage to describe parts of the Bitcoin system.
Fayer equates the new technology's rise to the early days of the internet.
"Some people compare it to the 1994 of the internet so it's an extremely new thing. People are just kind of investigating how to use it," he said.
Bitcoin in a nutshell
Others are skeptical. Critics say Bitcoin has a relatively small user base and that it lacks regulation.
In March, Texas Department of Banking Commissioner Charles Cooper sent out a supervisory memo arguing that virtual currencies can't be considered official under state statute.
"Because cryptocurrency is not money under the Money Services Act, receiving it in exchange for a promise to make it available at a later time or different location is not money transmission," he wrote.
But what exactly is a cryptocurrency?
Cryptocurrency is virtual money; it's valuable digital data that only exists online. Bitcoin is the first of its kind. It was invented in 2009 by Satoshi Nakamoto, whose mysterious identity is a story of its own.
Bitcoin works almost like real money or fiat currency -- but instead of a physical bank note, you have a specific string of numbers. The numbers are "mined," with data miners use computers with specialized software to solve algorithms or complex math problems to eventually find a coin.
Sound confusing? It is. But the thing about Bitcoin is there's a cap to how many are made.
Currently, about 25 Bitcoins are released every 10 minutes. Right now, there are over 12 million minted Bitconins in circulation. The last coin is to be made in 2140.
Supporters say Bitcoin has a proven track record
Tav Walraven of Lucas Street Antiques in Dallas accepts the virtual currency to pay for furniture and knickknacks.
He learned about Bitcoin through his wife's son, Brett Sagers, who suggested that he accept it in his shop.
"If someone walked in today and wanted to purchase a $3,000 armoire or a desk or a chandelier and they asked if I took them, you bet I'd take 'em," Walraven said.
He uses a tasty analogy to explain the concept.
"If you have 21 pounds of hamburger and that's it and they're not going to make any more hamburger, how much do you think hamburger is going to be worth when you got 500 people who want hamburger? It's all economics at that point," Walraven said.
Sagers said that because the virtual currency has survived for five years and is growing in value, there's promise for the Bitcoin ecosystem. The number of transactions further legitimizes its worth.
Lisa Waters also takes Bitcoin. She's a personal motivator and founder of a small company called Self Synthesize in Dallas.
"The thing about Bitcoin is that it's not a commodity and it's not a currency but it's both and it's more," she said.
She learned about the new technology last year through friends. At first, she was skeptical. But she liked that there aren't any third-party intermediaries – there's no middleman.
"What's so exciting is that it's a peer-to-peer payment system, it's one to one, there's no bank, there aren't any charges," Waters said. "So if you have a Bitcoin and I have Bitcoin, I can send you $150 million without transaction fees or with a small 50-cent transaction fee."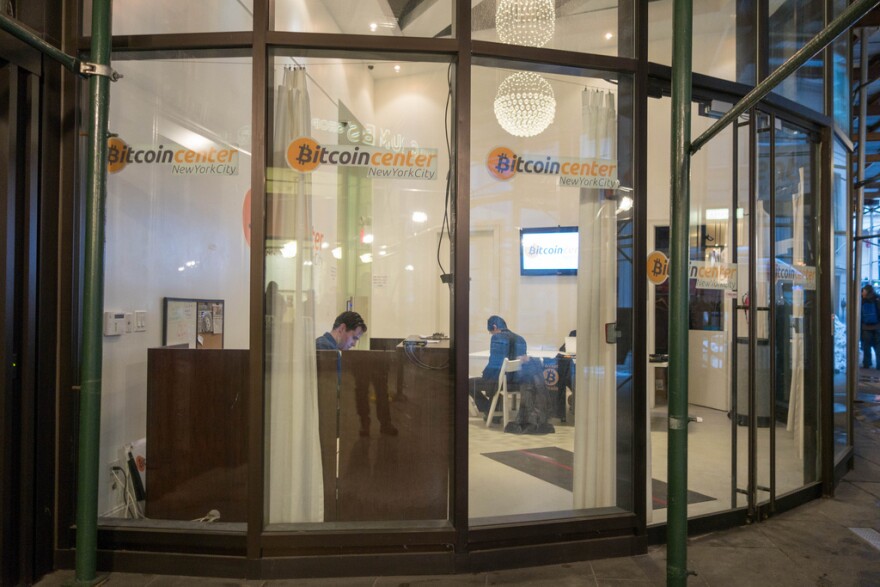 Bitcoin boom in Texas?
Elsewhere in Texas, Austin has become a hotbed for the cryptocurrency activity. A bookstore, a taco stand and even a grocery store are accepting Bitcoin.
Earlier this month, the Texas Alcohol and Beverage Commission announced that establishments selling alcohol in the state may accept the currency without the risk of losing their TABC licenses.
But in March, the State Securities Commission ordered Balance Energy, a North Texas oil and gas firm, to stop accepting Bitcoin from investors.
And when the Texas Department of Banking sent out its supervisory memo in March, it set the ground rules for digital currencies in the state.
Still, skepticism hasn't kept local techies and enthusiasts from dealing with the virtual currency. Despite speculation, Texas legislation has made it easy for new businesses to work with the new currency.
Leon Gaban, front end web developer of whoat.net, attends the Dallas meet-ups. He sees Bitcoin as digital gold, but even more valuable. He says it could be used to back up other digital currencies in the future.
"Maybe U.S. coin or China coin will be backed by the original Bitcoin," he said.
Learn more
From NPR: What Is Bitcoin?
From The San Francisco Chronicle: What Is A Bitcoin Anyway?
Photo credit: Flickr/The DEMO Conference and Flickr/Scott Beale