Looking For Something To Read This Summer? KERA News Has You Covered.
Are you a hardcore bibliophile? How about an occasional reader? Either way, the members of the KERA Newsroom have compiled a list of books they think you ought to check out this summer. From cookbooks to novels to biographies, this list is sure to keep you entertained and thinking all summer long.
Whether you are headed to the beach, the pool or simply hiding indoors to beat the heat, we think cracking open a book might improve your summer.
Check out some book recommendations from members of the KERA News staff.
Eric Aasen - Managing Editor, KERA News
Full disclosure: I'm a Disney addict (especially the history and the amusement parks). I love how Walt Disney built an empire that's a part of the American social fabric.
So, naturally, I was interested in reading Disney's Land by Richard Snow, which focuses on how Disneyland came to life. (KERA's Krys Boyd shared the book with me; she interviewed the author for a conversation on Think.) What surprised me was how engrossed I became as I read Snow's narrative; his writing is vivid. Many Disney experts already know Disney's life story, but Snow tells the history in such a way that we're meeting Walt for the first time.
My big takeaway: We get an honest look at Disney's efforts and learn of the countless setbacks along the way; still, Disney persevered. Disney's Land is a breezy read, perfect for the summer – and it will make you want to wish upon a star or book a trip to Disneyland (or Disney World or one of the Disney cruises …). At the very least, you'll want to go down a rabbit hole (a la "Alice in Wonderland") to learn more about the genius behind Mickey Mouse.

Galilee Abdullah - Assistant Producer, KERA News
I'm recommending two books: something new that I'm currently reading, and an older book that I've read several times.
Wake: The Hidden History of Women-Led Slave Revolts is a new graphic novel that brings history that has largely gone ignored to the forefront. And Wake does a great job of showing how history's past continues to live on in our current reality. The black-and-white artwork makes me think of another great graphic novel I've read called Angola Janga; it's about the history of slaves rebelling against Portuguese colonists. Everyone should read more graphic novels/comic books…especially ones by Black authors! 😊
My second recommendation is one of my favorite books from the greatest writer to ever grace this planet: Toni Morrison!
Tar Baby is such a heartbreakingly beautiful novel. The first time I read it in my youth, it really changed my life. It's not a light-hearted story, but it does have summer vibes! The book tells a love story on an imaginary Caribbean island, with references to colonialism and slavery. Books like Sula tend to be required reading at lots of schools, but Tar Baby is my favorite example of Morrison's mastery of writing and language. Every time I read it, it's a magical experience.
Sam Baker - Senior Editor and Morning Edition Host, KERA News
Being the host of Morning Edition at KERA means my workday begins around 4 a.m. And from then on, most of my time is spent reading and delivering news. So, with that in mind, lighter fare reading on an iPad is about all I can handle after hours. (Forget a hard copy!) That's how I came to Just As I Am by Cicely Tyson.
That being said, Tyson's life was hardly "light fare". Instead, her life's story is compelling and dramatic. Tyson's had a stellar film, television and stage career despite facing obstacles of racism and sexism.
But honestly, the real reason I was drawn to this book definitely has to do with some of the indelicate details of Tyson's romantic relationships. I mean, who wouldn't want to find out how anyone could survive two relationships with Miles Davis, including marriage the second time?
Stephen Becker - Senior Producer, Think, KERA
I started reading Chris Bosh's Letters to a Young Athlete because I was planning to interview the former NBA player in a tie-in to the book's June release.
Since this was scheduled as a quick interview, my plan was to read enough of it so I could ask a few intelligent questions and then move on. But as I dug in, I found the future hall of famer's advice for athletes with big dreams to be applicable even to those of us whose shot at athletic glory is long past.
At the top of the list: 'think through what your "why" is for what you are doing.'
In his world, it's "Why am I getting up before dawn to work out? Why am I stretching my body to its limits?"
According to Bosh, the answer to those questions can't be to find fame and fortune and prove all the doubters wrong. Those can be secondary benefits, but the 'why' has to be tied to some purpose that transcends those ideas.
It can be easy to walk through life's daily tasks without much thought as to why we show up every day, but this book pushed me to think through why I do what I do. Who says summer reading has to be light?
Anne Bothwell - VP, Arts, Art&Seek
For years, I spent much more time reading about food than actually cooking it. (Laurie Colwin, Edna Lewis, Calvin Trillin, and MFK Fisher would be at the top of my playlist.)
That all changed during the pandemic. Planning and making a delicious dinner became one small thing that I could do to ground myself while the world spun; it was one guaranteed good thing about each day. It's a habit I hope I'll carry forward.
Julia Turshen's Simply Julia gave me great — and easy — recipes for comfort food, like "Shredded Pork in the Spirit of Cochinita Pibil," decadent and cheesy kale, and fishcakes made with ricotta and potato chips. (Don't knock it until you try it!) This summer, I'll try some lighter dishes: a corn salad and a range of creative salad dressings.
Another plus: there's more to read than just the recipes. The book's salted with thoughtful lists, from conversation prompts to use around the dinner table to reflections on what Turshen learned as a private chef.
Krys Boyd - Host & Managing Editor, Think, KERA
George Saunders has been a frequent and much-welcomed guest on the Think show: he first joined us in 2017 to talk about his Man Booker Prize-winning novel Lincoln in the Bardo, and returned to talk about his novella, Fox 8 and his non-fiction book on writing, A Swim in the Pond in the Rain: In Which Four Russians Give a Master Class on Writing, Reading and Life.
I love Saunders' distinct voice as a writer: full of humor, empathy, and deep pathos. So this summer, I'm treating myself to the audiobook versions of his earliest short story collections, Civil War Land in Bad Decline and Pastoralia. Many of these stories take place in bizarre workplaces or vaguely magical parallel universes where Saunders' lowly protagonists try earnestly to follow rules that never quite make sense. They are so recognizably human and vulnerable and imperfect, but often achieve a kind of nobility —rising (or descending) as required by the surreal circumstances in which they find themselves.
Both these collections are voiced by the author himself, and Saunders is nearly as gifted a performer as he is a writer. My intention had been to download these and save them for a trip I have coming up where I'll be driving a lot, but I couldn't quite resist getting started and now I've listened to them all the way through. I will look forward to replaying them on the road.

Keren Carrión - Photographer/Videographer, KERA
I've always loved coming-of-age books, but never found that any resonated with my upbringing and culture the way With The Fire On High did. In this book, the main character is 17-year-old Emoni Santiago, a teenage mom of Afro-Puerto Rican descent, trying to find her place in the world while the odds are stacked against her. She finds her passion for cooking using her grandmother's recipes, adding her own twists and a little bit of "magic" to her food — which ends up taking her to some pretty amazing places.
This book, full of magical recipes and a compelling narrative, is a great summer read for teens and adults alike.
Fun fact: This is my signed copy of With The Fire On High from Elizabeth Acevedo herself. 🤩
Stella M. Chávez - Immigration and Demographics Reporter, KERA News
Two of my picks for this summer are Caste: The Origins of Our Discontents by Isabel Wilkerson and Mexican Gothic by Silvia Moreno-Garcia. I'm always drawn to narrative non-fiction writers and Wilkerson is a pro at it, weaving history with current events in a compelling way that makes you want to keep reading.
I chose to read Caste because I like to be challenged when I read. In this narrative, she describes what she sees as a hidden caste system in America and explores the links to India's caste hierarchy and Nazi Germany. I'm not very far along, but so far it's a fascinating read.
Because Caste delves into some heavy topics, I wanted to find a book that would help me escape. Several friends recommended the fictional tale Mexican Gothic and from the reviews I've read, I can't wait to dive in.
It's been described as a reimagined gothic horror novel — a genre I'm not usually drawn to. But I couldn't resist a book that's about a mysterious "isolated mansion in 1950s Mexico" with the main character described as "a glamorous debutante, more suited for cocktail parties than amateur sleuthing," but who's "also tough, smart and not afraid."
Apparently, I'm told, I'm in for a ride with this story.

Courtney Collins - Senior Editor/Projects, KERA News
I read Little Star several summers ago, on an international flight, in a single sitting. I opened the book and didn't close it until the bitter end.
It's an absolutely horrifying work of fiction. John Ajvide Lindqvist has been called "Sweden's Stephen King," but I found Little Star a tad more unsettling than some of Mr. King's creepiest tomes.
If you're intrigued by the story of a baby found in the woods who eventually lands on the stage of an international singing competition, read on! But buckle up, it all goes terribly wrong.
Gripping and well-written, Little Star is the perfect summer scare for fans of the horror genre!

Christopher Connelly - Reporter, KERA News
I've chosen two books to recommend. The first is a novel that I first read when I was 14 years old: When I picked up a copy of Dawn by Octavia Butler. I thought the cover looked interesting. And as soon as I started reading, I became an obsessive fan of Butler's brilliant, visionary writing. I read and re-read all of her books over and over.
Dawn is a science fiction novel, but don't let that stop you: Even after decades, Butler's fantastical stories provide valuable real-world insights. I'm excited to start again with Dawn this summer because it's slated for a TV treatment helmed by Ava Duvernay.
My second recommendation is a nonfiction book that's been lauded by the New York Times and dozens of other news outlets.
Even the footnotes tell stories in Matthew Desmond's Evicted: Poverty and Profit in the American City. A sociologist by training, Desmond follows eight families struggling to stay housed in Milwaukee, focusing in on the devastating consequences of evictions, the industry that surrounds them, and the shifting patterns in American life that have made evictions a frighteningly frequent phenomenon.
It's the most richly reported book I've ever read, stunning in its detail and humanity. It's an eye-opening read that you can't stop thinking about.

Domini Davis - Assistant Digital Producer, KERA News
The Saturday Night Ghost Club is a lovely coming-of-age story that, yes, involves ghosts. And it's so much more. This trip down memory lane avoids the nostalgia trap and examines what memories are, where they come from — but most of all how memories change. It's a perfect summer read that will warm — and break — your heart.

Rick Holter - Vice President/News, KERA News
For me, summer is for fiction – and most years, I dig back into at least one of my all-time faves.
This year's the 30th anniversary of Jane Smiley's masterwork, A Thousand Acres. I'm a kid born on a dairy farm, so her story – the travails of an agricultural family in decline – hit home. And then when it became clear she was retelling Shakespeare's King Lear, complete with some serious skeletons in the closet, I was thunderstruck.
I know, I know … it sounds like some sort of wonky academic exercise a wannabe novelist dreams up at the Iowa Writer's Workshop. (Which it kinda was: Smiley, born in L.A., spent almost a quarter-century studying, writing and teaching at the University of Iowa and Iowa State.)
But the story is so evocative, the characters so real, the family secrets so deep and dark … you can almost feel the wind crackling through the desiccated cornstalks.
This summer, I can't wait to be blown away again.

Bret Jaspers - Reporter, KERA
We Own This City: A True Story of Crime, Cops and Corruption in an American City by Justin Fenton starts with a long view of policing policy in Baltimore, Maryland – the circumstances that preceded the death of Freddie Gray in 2015.
And the bulk of the book chronicles the evolution and eventual downfall of the corrupt police unit known as the Gun Trace Task Force. Fenton is a reporter at the Baltimore Sun and his book is an easy, gripping read. His dedication to the city is incredibly inspiring.
Gabrielle Jones - Digital News Editor, KERA News
My summer reading recommendation legendary actor Cicely Tyson's autobiography Just As I Am.
When I received this book, the 96-year-old was preparing to resume making the rounds to promote it. By the time I cracked the cover, she'd passed away.
Her death created a hole in the hearts of many, like a piece of cultural wisdom and Black pride was lost. Lucky for us, Ms. Tyson left behind the legacy of her film and stage career, and the words of wisdom tucked between this book's pages.
The inside cover quotes Ms. Tyson as saying "Just As I Am is my truth. It is me, plain and unvarnished, with glitter and garland set aside." This book goes beyond an intimate portrait of the icon's life. It offers us an account of 96 years of Black celebration and struggle and a real-world account of navigating racism and sexism in America with the sort of power, poise, and grace that was unique to Ms. Tyson.
If you're looking to step into the shoes of another and have a sensory experience of their life in the same way that a public radio driveway moment makes you see the world through someone else's eyes, this is the summer read for you.

Sylvia Komatsu - Executive Vice President and Chief Content Officer
I often call a special friend when I'm trying to figure out why people think and act the way they do. She recently gave me a copy of psychologist Catherine Sanderson's latest book, Why We Act: Turning Bystanders Into Moral Rebels, and it's high on my summer reading list.
An exploration of moral courage — understanding the psyches of bullies and bystanders and how each of us can learn to be better and braver — is always relevant. And given the ongoing divisions in our country, this book seems especially timely.

Alejandra Martinez - Reporter, KERA News
I picked up The Undocumented Americans by Karla Cornejo Villavicencio from my local public library the weekend before the partial collapse of a 12-story condominium building near Miami on June 24. Officials in Miami-Dade County have confirmed that at least 94 people are dead and more than 200 people are unaccounted for.
It seemed like a horrifying coincidence that once I started reading news reports from Florida about the tragic event, I was also reading Cornejo's book about undocumented immigrants.
In this book, she writes from a place of shared trauma, memories, and pain. Cornejo portrays day laborers, housekeepers, construction workers, and deliverymen as the "second responders" of the U.S. In times of crisis, it is those who usually hide behind the shadows that rise up and get to work. Cornejo's first example of this was immigrants helping in search-and-rescue efforts after 9/11. My thoughts automatically turned to what happened in the city of Surfside near Miami. I wondered, "how many immigrants there signed up to help in this tragic disaster?"
The Undocumented Americans is part memoir, part reporting, and part "creative nonfiction" as Cornejo describes it. The book shares many stories of individuals living in America without rights. I appreciated Cornejo's brutal honesty and rawness. It hit close to home in many ways. I'd highly recommend this book, especially for those like me who need to be humbled and reminded of our privilege so we can be better allies and advocates for undocumented people.
Hady Mawajdeh - Digital Engagement Reporter/Producer, KERA News
I'm currently reading a nonfiction book called How to Kill a City: Gentrification, Inequality, and the Fight for the Neighborhood by Peter Moskowitz. And considering the housing issues in North Texas, I'd recommend you check it out.
The book visits four cities that have experienced gentrification, and it takes you into the homes of families that can no longer afford to live in neighborhoods they've lived in for generations. It's heartbreaking. But it also shines a light on the vicious practices of "remaking" a city.
If you're looking for something a little bit lighter, I'd recommend a novel called The White Tiger. It's a comedy told through the perspective of Balram Halwai, an Indian village boy turned mogul. The White Tiger follows Halwai from childhood into adulthood and along the way, you see how his perspective on hard work, capitalism, and Indian politics evolve.
One of my favorite quotes from the book has to do with Halwai's perspective on the caste system in India and why many never challenge it.
"Go to Old Delhi, and look at the way they keep chickens there in the market. Hundred of pale hens and brightly colored roosters, stuffed tightly into wire-mesh cages. They see the organs of their brothers lying around them.They know they are next, yet they cannot rebel. They do not try to get out of the coop. The very same thing is done with humans in this country."
Halwai's observation is pretty crass, and a little dark. But when you read the prose within the story, you can't help but find this character to be anything by charming.
The book also won a Man Booker Prize 2008 and it was adapted into a film in 2020. The film's screenplay was nominated for an Oscar. (But the film has nothing on the novel.)
Corrie MacLaggan - Statewide Managing Editor, The Texas Newsroom
Public libraries are BACK, and I'm trying to make up for all the times I couldn't visit last summer.
My most recent library find is The Arsonists' City, by Hala Alyan. I couldn't put down this new novel about a Lebanese-Syrian-American family living in several cities, including Austin, and their secrets. I picked up the book because of the Texas connection, but the vivid scenes in Beirut – in the streets, in a seaside cafe, and in a cherished home adorned with almond trees – were the ones that swept me away.

Elizabeth Myong - Assistant Digital Producer, KERA News
It's hard not to love Maya Angelou's writing — it's so unpretentious and powerful, pithy and honest.
And Wouldn't Take Nothing For My Journey Now reads almost like a collection of poetry, though it's actually a compilation of musings and short stories about different topics like maintaining your power as a woman, style and stepping back.
I love how you can flip around to different chapters depending on your mood and what topic you're most interested in on any given day. At a time when the fatigue of the last year is settling in, this book has brought me a lot of joy, inspiration, and verve to carry on.
Haya Panjwani - Breaking News Reporter, KERA News
As a self-proclaimed expert in sappy romance novels, I tend to gravitate towards stories that take a spin on the classics. While "Sex and the City" may not be a literary classic, it still aches the hearts of every romance fanatic, and Girls of Riyadh by Rajaa Alsanea does just that. It's spicy, it's glamorous and it opens your eyes up to the lavish life of the Saudi Arabian elite women.
I'm also someone who tends to break their new year's resolutions every year, but I've committed to myself that I'll try my best to achieve one this year, that is -- reading 50 books by the end of the year. I've hit 30, and I think that's a pretty good progress point! Apps/websites like Goodreads help hold me accountable.
Other books I recommend reading but don't have hard copies of are Beach Read by Emily Henry, and the Crazy Rich Asians trilogy by Helen Huong. All hail sappy romance!
Ana Perez - Assistant Producer, Think, KERA
I love a good psychological thriller – and this book series doesn't disappoint. You Love Me is the third installment in the You novel series by Caroline Kepnes and my 2021 summer read pick!
Just like the Netflix series, the book is highly addicting, entertaining, and a bit frightening at times. Kepnes' writing reads like a TV show filled with twists and turns and a bit of humor.
It's a book (and book series) I highly recommend!
Miguel Perez - Reporter/Digital Producer, Art&Seek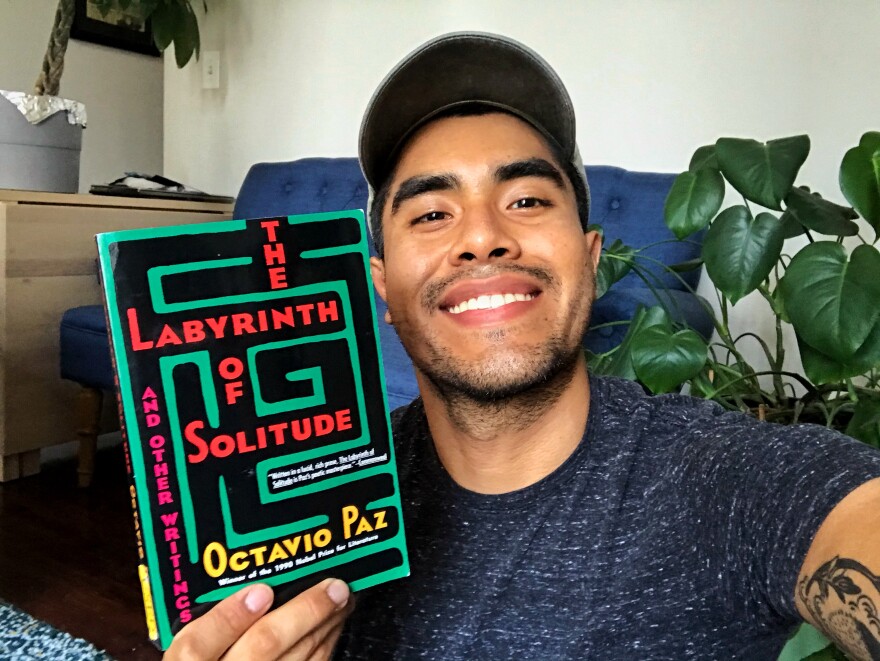 I think that to be a first-generation Mexican American means to be in constant search of equilibrium. Our cultural heritage is celebrated and highly commodified in the United States, while our ethnic identity has often been vilified and delegitimized. It can get complicated figuring out your place here.
I often have a lot of questions about the duality of my identity, about how to foster community away from my motherland, and about how to preserve and add to my cultural heritage. That's why this summer I'm going to read Octavio Paz's The Labyrinth of Solitude in the hopes of getting some clarity for myself.
The Nobel laureate and poet examines the Mexican identity through several lenses, and he touches on the impact migration, colonialism, death, and politics have had on that shared identity. I don't think it'll be a fun read, but it will be a necessary one!

Miranda Suarez - Fort Worth Reporter, KERA
As a kid, I used to spend my summer vacations digging into the biggest fantasy books I could find. I still crave epic stories in the summertime, so I'm recommending Assassin's Apprentice by Robin Hobb.
It's the beginning of a series following the life of FitzChivalry Farseer, the son of a prince who is raised to become a royal assassin. Hobb writes fascinating, complicated characters, and is adept at twisting old fantasy tropes to make them feel new again. You will also cry a lot.
If you like Assassin's Apprentice, there are more than a dozen other books in this world, so your summer reading list is set.

Micaela J. Rodríguez - Managing Producer, Podcasts at KERA
To me, summer means stone fruit. Enter The Peach Truck Cookbook, which encourages home chefs to experiment with the beloved fruit.
What I like about this book is that it isn't just 100 peach dessert recipes, but instead includes everything from sweet (the Dutch baby is a winner) to savory (snapper and peach crudo – sounds suspicious, is delicious).
Everything in this cookbook is approachable, delectable, and sometimes even controversial — like the peach and jalapeño cornbread.

Jerome Weeks - Senior Arts Producer-Reporter, Art & Seek
If you haven't encountered Mick Herron's Slough House series of novels, then you've missed the best of British espionage fiction since the heyday of Len Deighton and John le Carré in the '60s and '70s.
Herron's yarns are about a dumping ground for intelligence service screw-ups. Working out of a derelict London building called Slough House, these are the 'slow horses.' They're assigned pointless tasks to make them go away. But their chief is a drunk, darkly shrewd, and foul-mouthed Cold War veteran who knows where the bodies are buried – because he planted a few himself.
Le Carré was the master of the backstory, the unraveling histories of personal deceits and class-based loyalties of the Oxbridge-educated men and women who've run and betrayed British intelligence. In contrast, Deighton (at his best: The IPCRESS File, Funeral in Berlin) created a more coolly sardonic, working-class portrait of the same world.
Combine Deighton's cultural satire with le Carre's sensitivity. Then add wicked humor and a fast-paced feel for contemporary, computerized counter-espionage – a feel for how frequently we've been chasing our own shadows. What you get are some deeply entertaining thrillers. I've read all 10. This summer, I'm re-reading them in chronological order.
Bill Zeeble - Reporter, KERA News
We heard Walter Isaacson speak at the DMA a few years ago when the book came out and got a copy – so unusual since, like, I don't pay retail. But Nicole wanted to read it too. Isaacson signed it. Writers are allowed to make money.
Why this? We've been to Vinci, in northern Italy. I've seen the famous, visionary inventions and sketches of da Vinci, that have always fascinated me, along with the rare, famous paintings, including the Mona Lisa (always at a distance of what seems like several football fields).
After I finished a novel last month, I decided to tackle this large, heavy nonfiction volume – rare, because I usually read nonfiction for work (news articles and such) and novels at home. da Vinci's a millennial phenom – meaning, to me, he's kinda that once-in-a-thousand-years kind of genius. And I'd not read any bio of him before. I remembered we had this book, so there you go. I read it before falling asleep – nothing unusual there.
I always look forward to picking this book up, to see what I learn next.
KERA News is made possible through the generosity of our members. If you find this reporting valuable, consider making a tax-deductible gift today. Thank you.